Client Overview (Overview Tab) is an accountant-only view inside your client's QuickBooks Online file. This lets you confidently engage with their clients and important client details on the company set up, banking activity, and common issues.
With Client Overview, you can:
Save time and get back to your clients faster
Quickly get a high-level understanding of the state of the books
Get a better sense of where to start your file analysis
Get to where you want to go in fewer clicks
Price your services appropriately
Better estimate of the pricing for an initial clean up
Better evaluation of required ongoing workload
Access the Overview tab
Sign in to QuickBooks Online Accountant.
Select Clients from the drop-down
(Or find the client then select the QuickBooks logo under the Status column.
Once in the client file, select Overview from the left menu.
The Client overview screen has four main sections: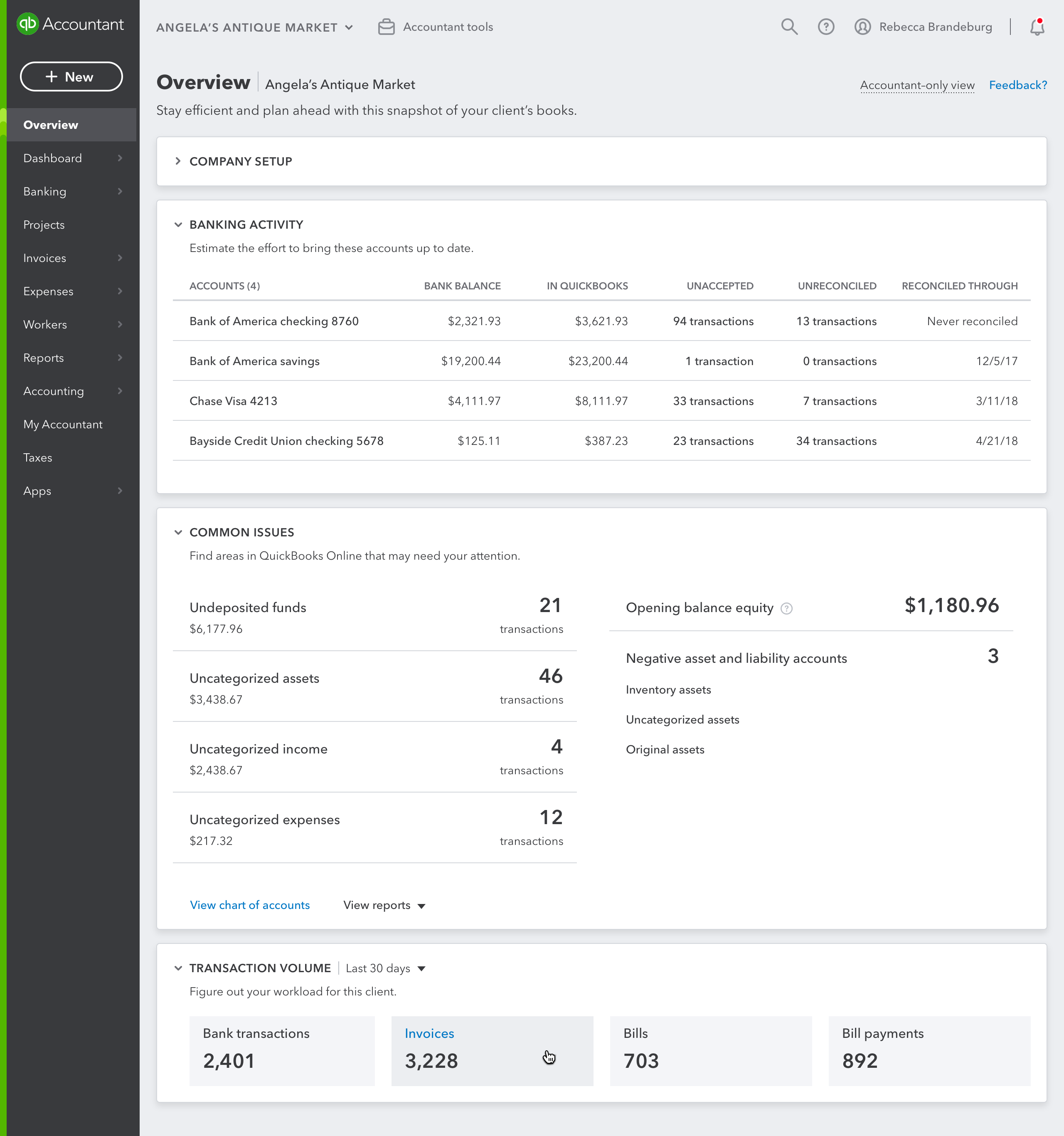 Company setup
Provides important details about your client's Quickbooks subscription, whether or not they have payroll or sales tax enabled. In addition, you'll also see how many apps your client has connected to their Quickbooks so you can stay on top of how many things are feeding into their account. These features help you understand your client, so you know what to expect when working with them.
Online banking activity
Shows all of the bank and credit card accounts connected to your client's QuickBooks, the balances of each account, and all unaccepted and unreconciled transactions for each account. As an added benefit, we'll also show you the last time they were reconciled all in one place. This helps you save time as you no longer need to go into each account and hunt and peck to understand the state of your clients' books.
Common issues
Helps you get a better sense of areas in the client's books that may need your attention. Highlighted in this section are Undeposited Funds and Uncategorized transactions which are the most common client pain points.
When you select one of these tiles, it will take you directly to relevant register accounts or specific bank accounts, so you can do further investigations to understand the root cause.
Transaction Volume
Allows you to see the total amount of certain transactions in a certain time period for:
Bank transactions: total amount from all banks and credit cards connected and unconnected
Invoice: total amount of invoices you send out from QBO
Bills: total amount of bills you have not paid
Bill payments: total amount of bills you already paid
This feature can help you assess workload and account movements in the recent past.
Frequently Asked Questions
Will my clients be able to see this information? Who can see the Overview tab?
Clients cannot see this, this view is only for accountants using QuickBooks Online Accountant.
Is this view customizable? Can I choose what I want to show?
Not right now. We have some ideas based on early feedback we've heard and will prioritize this feature at a later date.
Is this screen clickable?
Yes, you can click on several places on this screen and it will take you to the area where you can do further investigations.
What happens if my clients has nothing/no data in their books/account?
If your client has an empty QuickBooks Online account, there will be no data on this page. Once you or your clients add any transaction or bank, the Overview tab will automatically populate the information in real-time.
How often does the information on this page update?
The Overview tab updates real-time so whenever you make a change or do a certain task the information will populate. The only part that may have some delays is the bank transactions since this data will only reflect the last time your bank data was refreshed.
When will this feature be available?
The Overview tab should be available right now. You should go into a client's book from your QuickBooks Online Accountant and the new tab should be there.
How can I submit a feature request or feedback?
There is a blue link called "feedback" on the Overview tab where you can leave your requests.
Can I use this on my tablet or phone?
Of course! We've optimized this for all types of devices. We want to ensure you are able to check in on the state of your clients' books wherever and whenever it's most convenient for you. From the beach, elevator to your desk, we got your back!