Learn how to add new accounts in your chart of accounts.
Chart of accounts is the nuts and bolts of your accounting. And it's already set up and customized for you. But if you need new accounts to keep track of your transactions, you can always add more. We'll show you how.
Tip: Moving from QuickBooks Desktop or have another QuickBooks Online company? Save time by moving your existing accounts instead.
Add a new account
Select Settings ⚙ and then Chart of Accounts.
Select New, then choose the account type.
Find the detail type that fits your account or the transactions you want to track. Learn more about detail types if you have questions.
Give your new account a name. You can use the info under the detail type to add a name that fits. You can also add a description.
If you're adding a subaccount, select Is sub-account of and then enter the parent account. If you need help, learn more about parent accounts and subaccounts.
For the as of date, tell QuickBooks when you want your account to start. Then add the Balance in the account as of the date you choose.

Note: Only some account types need this, like bank, credit card, asset, and liability. If you need help, you can learn more about opening balances.

Select Save and Close. If you want to add another one, select the small arrow ▼ and then Save and New.
Add an account when recording a transaction
If you find you need another account when recording a check, bill, or some other transactions, you can easily add one.
In the transaction, select the small arrow ▼ in the Category column. Then select + Add new.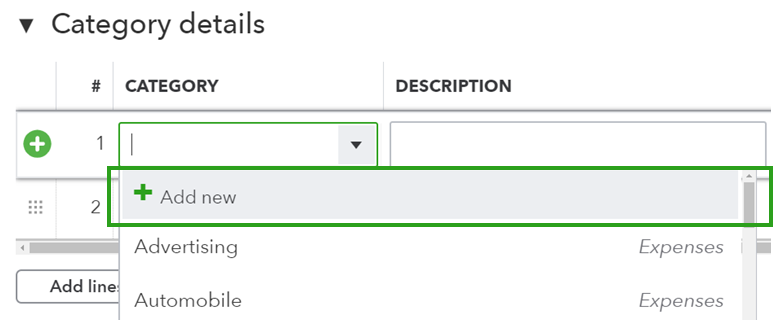 Added a new bank account?
Connect it to your real bank. If you connect, QuickBooks automatically downloads and categorizes your bank and credit card transactions for you. Then all you have to do is approve the work.
Getting a usage limit message?
This means you've reached the maximum number of accounts you can add with your QuickBooks plan. If you have accounts you no longer use, make them inactive so you can add more.
Learn more about usage limits.
Get help with organizing your accounts
Keep your chart of accounts straightforward. Here are things you can do to organize your accounts: