Expert only content
Virtual Servers/Virtual Environment FAQs
What is a virtual environment?
A virtual environment is where you run an operating system from within another operating system. For example, you may have a computer that has Windows 7 installed natively (physically on the hardware) but you can run Windows XP in a window alongside the Windows 7 operating system.
In this example, the Windows XP machine is being virtualized by Windows 7. You can run applications in Windows XP as well as in your Windows 7 environment.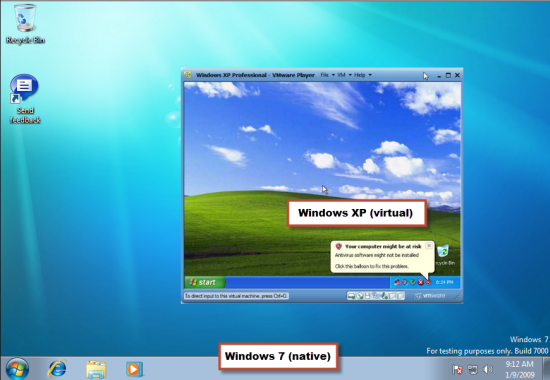 As we do not support QuickBooks in a virtual environment, you can use your best judgment in terms of what the issue is. If the customer has application basic questions or How Do I's, you can still support them. While virtual environments are not supported, we should still be giving best effort support to rule out anything else.
How do you tell if the customer is using a virtual environment?
It's actually quite hard to tell unless you're talking to an IT professional. You can ask the customer if they use QuickBooks in a virtual environment or if you suspect it, offer the customer to call or conference in the IT professional and ask them directly.
You can also remote in and check. If you see a window inside a window of the operating system (like in the picture above), this would indicate a virtual environment. Look for common virtual software environments with program names like Virtual Box, VMWare, Parallels, Hyper-V, or Virtual PC.
Another way to check:
On your keyboard, press Windows key+R to open Run.
Type msinfo32 then press Enter.
Look for something in the system summary about "VM," "Virtual," etc. This may tell if the customer is using QuickBooks on a virtual environment or not.
Note: For Windows 10, you can simply open the System Information utility. Check this Microsoft Article for more information.
https://community.intuit.com/articles/1577643
There are certain types of networks you can use to run QuickBooks Desktop. Below are lists of networks to help you decide which one to use.
Note: Our technical support team cannot provide assistance beyond QuickBooks configuration to networks other than the recommended ones.
Recommended Networks
*Having your server in a domain and your workstations in workgroup/s can work but you must have your authorizations set up correctly.
Networks that are NOT recommended
| | |
| --- | --- |
| Network Type | Brief Description |
| Remote Area Network | Gives remote users access using analog modems or Internet Subscriber Digital Network connections from the host computer's modem. |
| Wide Area Network (WAN) | Computers are connected over long distances using telephone lines and satellite communications. |
| Virtual Private Network (VPN) | Connects computers over long distances via the Internet using an encrypted tunnel. |
| File Transfer Protocol (FTP) | Copies files from one location to another. Intended to move files and not to open them. |
| Network Attached Storage (NAS) | A device connected to a network that only provides file storage for other devices on the network. These devices do not have full computer functionality which QuickBooks requires. |
| Virtual Servers/Virtual Machines | Mac M1 won't work on a virtual network. |