Spruce up your receipts!  QuickBooks Mobile Payments lets you send an email or a text message receipt, which shows customers your contact info. You can customize mobile payments receipts to show exactly the information you want customers to see.
Note: To be PCI-compliant, receipts must provide at least one contact number for your business. The information discussed here only appears on your mobile payments receipts. It won't affect the appearance of other receipts.
To customize your receipt, go to the GoPayment app menu, then tap Settings.
Tap Receipt Customization.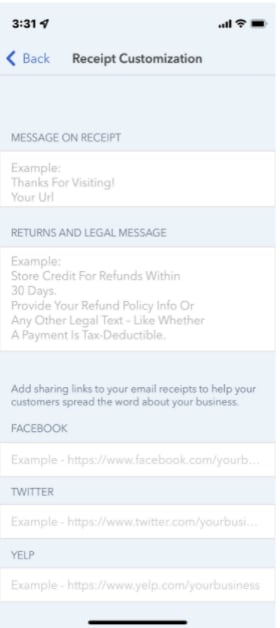 Complete the fields to customize your receipt. You can add a thank you message, a return policy, or add clickable links to emailed receipts for your website or Facebook page.
Note: If the changes won't save, it may be due to special characters. If you have special characters in a field, remove them and save again.
To add a logo to your receipts, tap Logo.
Note: If you receive the error "You can't upload a logo at this time. Try back later", then you need to upload it again using the GoPayment app.