Learn what Error -6150,-1006 is and what to do if you see it in QuickBooks Desktop.
If you see Error code: -6150,-1006 when creating, opening, or using company files, we're here to help.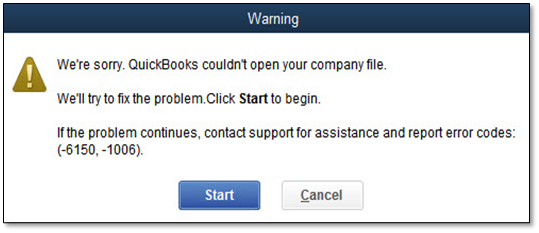 Error -6150, -1006 means your company file could have some issues that need repair. But don't worry. We'll help you through the steps to get this resolved so you can get back to business.
Step 1: Check for CryptoWall
In rare cases, the CryptoWall virus and other malicious software can cause Error -6150, -1006 and prevent you from opening QuickBooks.
Do this quick check so you can decide on next steps:
Open the Windows Start Menu.
Type "File Explorer" into search and open File Explorer.
Search for and open your QuickBooks folder. It's usually on your C: drive.
Look for files that contain words like "decrypt" or "instructions" (.txt or .html).
If you don't see any files that fit this description, your computer is fine. Move on to Step 2.
If you see files that fit this description, reach out to your anti-virus provider for help removing the CryptoWall virus. Here's documentation from Norton and McAfee for next steps. Don't proceed with any other steps until you resolve this.
| | |
| --- | --- |
| | Important: Intuit Data Services is unable to repair affected company files. |
Step 2: Restore a backup company file
If you recently saved a backup of your company file (QBB), use it to restore your work. Only follow the steps to restore from backup company file if you backed up recently - you'll lose your work between your last backup and today.
If you don't see Error -6150,-1006 after you restore your backup, everything is fixed.
If you still see Error -6150,-1006, move on to Step 3.
Step 3: Use Auto Data Recovery
Learn more about recovering lost data with QuickBooks Auto Data Recovery.