You can apply for GoPayment credit card processing from your computer or your mobile device.
If you have not installed GoPayment on your mobile device, are using an unsupported device or are applying from a computer, click the link below to sign up.
Take your business on the go with the new QuickBooks Card Reader so you never miss a sale. Its innovative design includes an LED display and contactless payments, which conveniently lets customers pay, tip, and check out without having to share your phone. Learn more
If you have installed GoPayment, select Get set up. (This option only appears immediately after installing the GoPayment application.)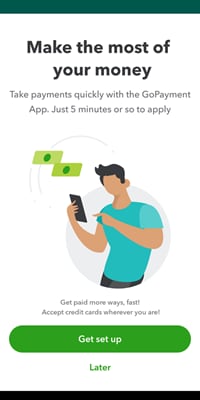 Enter your email address, select a password, confirm password and select Create Account. NOTE: If the email entered is already tied to an Intuit account, you'll need to sign in or reset your password.
Select Let's go and enter your account info.
Add your business and personal info and then select Start.

Select the plan that's best for your business and continue through the application.
When you're ready to submit your application, select Submit Application. When you do this, you agree to Intuit's Terms of Service and Merchant Agreement.