You may be required to collect taxes for certain goods and services you offer. QuickBooks Desktop helps you keep an accurate record of these taxes so you can easily monitor and remit them to the appropriate tax collecting agency.
This article is part of a series on Sales Tax. It covers the usual sales tax workflow in QuickBooks Desktop.

It also helps you complete other sales tax-related tasks.

If you encounter problems while working on your sales tax, see Resolve common sales tax issues.
Before paying your sales tax, run a Sales Tax Liability report   as it will provide information that you can use when you fill out your state/provincial sales tax forms.
DO NOT use Write Checks or Pay Bills windows to pay your sales tax to avoid errors in your bookkeeping and sales tax reports.
Use the Pay Sales tax window to create sales tax payment in QuickBooks. This window shows the:
Amount of sales tax you owe for each sales tax item you use.
Any adjustment you've entered and need to apply to your payments.
To pay your sales tax: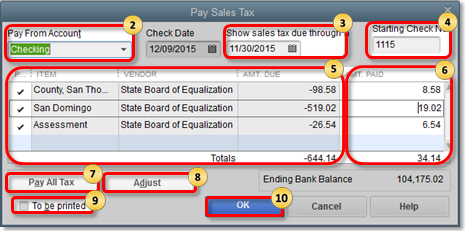 From the Vendors menu, go to Sales Tax, then select Pay Sales Tax.
On the Pay From Account drop-down, select the checking account you want to use for the tax payments. Note that the drop-down only shows bank accounts.
In the Show sales tax due through field, check and make sure the date is correct.
In the Starting Check No. field, make sure the check number matches the next check you want to use.
The list shows all the sales taxes your company owes, the tax agency to which the sales tax is payable and the amount due as of the date in the sales tax due through. If the list is empty, you may not have setup sales correctly.
If you want to make a partial payment, go to the Amt Paid column then type the amount you intend to pay for each tax item on the list.
Select Pay All Tax if you want to make a payment for all the taxes due. This is recommended if your tax agencies are on the same payment schedule. Note that the Pay All Tax button changes to Clear Selections as soon as you put a check mark on the Pay column.
Select Adjust if you need to still need to make an adjustment for a credit, fine, etc.
Put a checkmark on the To be printed box if you need to print or hand write the checks later.
Select OK.

If you want to check the sales tax transactions or add memos to them, you can view and edit them in the agency's sales tax payable account register.