Outlined in this article are the steps to open Intuit Data Protect (IDP) to check the Backup Status, view the Backup History, and change the Backup Settings. If you have problems with Intuit Data Protect, see Can't back up with Intuit Data ProtectCommon Intuit Data Protect (IDP) Problems for more information.
Open Intuit Data Protect
Find the Intuit Data Protect (IDP) icon (green padlock) in the Windows System Tray (typically located at the bottom right of the screen).
Right-click the IDP icon, then select Open Intuit Data Protect.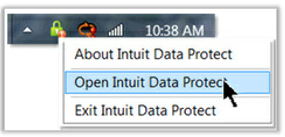 View Backup History
When you choose View Backup History, you'll see the Backup Details page with a chronological list of your backups, from oldest to newest. Scroll through the history to find the date and timestamp of the backup entry you're looking for.
Open Intuit Data Protect.
Select View Backup History from the Main Intuit Data Protect window.
Change Backup Settings
When you select Change Backup Settings, you will be able to add or remove files from your backup set and change your email notification preferences.
Open Intuit Data Protect.
Select Change backup settings.
On the Select QuickBooks Data window, choose the files you want to backup, then select Continue. Note: For Entire PC Users, after you choose Continue, select the additional folders you want to back up on the Select other folders to back up window.
Select Continue. On the Notifications Email Settings window, choose whether to be notified or not.
Select Continue again, then choose your backup time.
Select Continue to save the changes, then exit from the settings window.