Problem
When getting program or payroll updates, you receive the error Server not responding.
Expected Outcome
You will be able to download the latest payroll or QuickBooks updates.
Assumptions
Your computer is connected to the Internet.
Details
This problem may be caused by:
Internet Connection issues: Loss of your connection to or slowness of the Internet.
System Resources: Too many programs running on your computer system.
There isn't a single process for correcting the error, since it can be caused by components outside of QuickBooks.
Solution 1: Run the QuickFix my Program from the QuickBooks Tools Hub
Step 1: Download and install the QuickBooks Tools Hub
The QuickBooks Tool Hub helps fix common errors. You'll need to close QuickBooks to use the tool hub. For the best experience, we recommend you use Tool Hub on Windows 10, 64-bit.
Close QuickBooks.
Download the most recent version (1.5.0.0) of the QuickBooks Tool Hub. Save the file somewhere you can easily find it (like your Downloads folder or your Windows desktop). Note: If you've installed Tool Hub before, you can find out which version you have. Select the Home tab. The version will be on the bottom.
Open the file you downloaded (QuickBooksToolHub.exe).
Follow the on-screen steps to install and agree to the terms and conditions.
When the install finishes, double-click the icon on your Windows desktop to open the tool hub.

Note: If you can't find the icon, do a search in Windows for QuickBooks Tool Hub and select the program.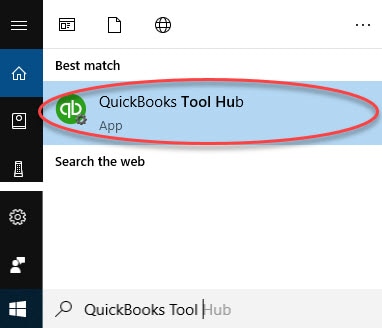 Step 2: Run Quick Fix my Program
In the QuickBooks Tools Hub, select Program Problems.
Select Quick Fix my Program.
Start QuickBooks Desktop and open your data file.
Download payroll updates.
Here are some possible solutions:
QuickBooks will keep trying until the update Completes or Errors out. Click the Ignore button if it appears.
Check the status on the right for error messages.
Stop the updates and retry.
Close any other open programs to free up system resources.
Check your Internet connection.
If downloading a QuickBooks product update, reset the product update.