Learn how to connect QuickBooks Commerce to Squarespace.
QuickBooks Commerce works with Squarespace to automate your back-end operations on Squarespace. It combines all your sales channels, locations, and currencies in one place. 
Save yourself from a lot of work and long-term issues by integrating your QuickBooks Commerce and Squarespace. Here's how.
QuickBooks Commerce is no longer available for purchase as a stand-alone product.
The features referred to in this article are only relevant for customers who still have QuickBooks Commerce bundled with their QuickBooks Online subscription.
If you want to learn more about e-commerce accounting features that are part of QuickBooks Online, check out Accounting for e-commerce FAQ.
Step 1: Sign in to QuickBooks Commerce
If you haven't yet, here's how to access and set up QuickBooks Commerce from within QuickBooks Online.
Select Commerce (Take me there) then select Go to Commerce.
Step 2: Install Squarespace
Here's how to install Squarespace in QuickBooks Commerce.
Go to Browse Apps, then select Squarespace.
Select Install app.
Sign in to your Squarespace account.
Verify the permissions you're giving to QuickBooks Commerce. Then select Allow.
From the Squarespace store page dropdown▼ menu, select the Squarespace store page that has products you'd like to sync with Commerce. Then select Continue.
From the Squarespace location dropdown▼ menu, select the stock location you use to ship and manage inventory.  Then select Continue. You'll also see an option to create a new location.
Select the price lists you want to sync with Squarespace in the Base price list and Sale price list dropdown ▼ menus.

Note: The base price should map to the retail price you want to sync to Squarespace. The sale price should map to a lower price than the retail price for sales or promotions.
Select Continue to view the summary page.
Select Complete Installation.
Step 3: Review the dashboard 
Review the dashboard for any potential errors and unlinked or unimported products diagnostics. These diagnostics will allow you to import new products from Squarespace to Commerce or link existing products if they exist already in both.

Unlinked products
Unlinked products are those that exist in Squarespace and Commerce. 
You can see the unlinked products by downloading the Linkable Products CSV.
Once you see them, go to Inventory to confirm that the products exist.
Select Link Products if you confirm the products are the same.
Go back to Inventory, then select the product that you linked.
Go to the Sales Channels tab to check if they're already linked to Squarespace.
Unimported products
Unimported products are products that don't exist in Commerce. 
Download the Importable Products CSV to see which products to import. 
To import them, select Import Products.
Go to Inventory. The imported products should be under the Active tab. If you can't see them, select the LAST UPDATED column to refresh the tab.
Step 4: Turn on data sync options
Once you cleared the unlinked and unimported products, you're now ready to sync your data.
Go back to My Apps and select SquareSpace.
Under the Overview tab, you'll see that all of the checks were successful.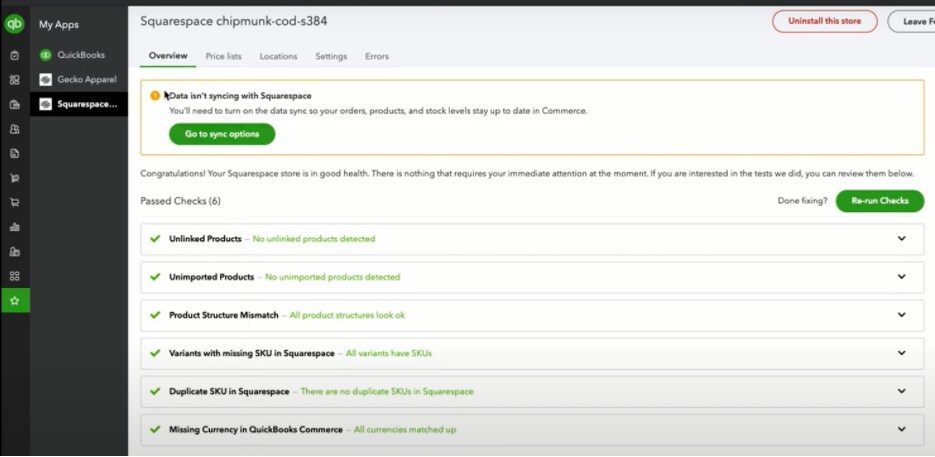 Select Go to sync options.
Edit the channel name to align with how you reference the store if you have multiple accounts.
In the Order number prefix field, you can enter a prefix on how you want to identify your orders.
Turn on the shipping tracking notifications.
Turn on the data sync options: price, product details, stock level, and order sync. 
Select Save Changes.
QuickBooks Commerce will now resync your data.