Troubleshoot your Internet Explorer if, after upgrading to a newer version of QuickBooks Desktop, your Loan Manager or Cash Flow Projector is missing or you are getting the following error when opening either of the add-ons:
Feature update - reboot required to use this feature: QuickBooks updated this feature to work with your version of Internet Explorer. Please reboot your computer to use this feature.
Note: Loan Manager and Cash Flow Projector were discontinued in QuickBooks Desktop 2022. You can still use these features in previous versions that we support.
Solution 1: Run Quick Fix my Program from the QuickBooks Tools Hub.
Step 1: Download and install the QuickBooks Tools Hub
The QuickBooks Tool Hub helps fix common errors. You'll need to close QuickBooks to use the tool hub. For the best experience, we recommend you use Tool Hub on Windows 10, 64-bit.
Close QuickBooks.
Download the most recent version (1.6.0.3) of the QuickBooks Tool Hub. Save the file somewhere you can easily find it (like your Downloads folder or your Windows desktop). Note: If you've installed Tool Hub before, you can find out which version you have. Select the Home tab. The version will be on the bottom.
Open the file you downloaded (QuickBooksToolHub.exe).
Follow the on-screen steps to install and agree to the terms and conditions.
When the install finishes, double-click the icon on your Windows desktop to open the tool hub.

Note: If you can't find the icon, do a search in Windows for QuickBooks Tool Hub and select the program.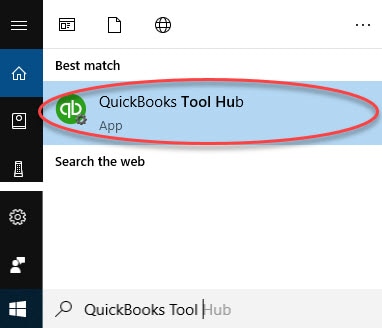 Step 2: Run Quick Fix my Program
The Quick Fix will shut down any lingering background processes QuickBooks may be using. It will run a quick repair on your program.
In the QuickBooks Tools Hub, select Program Problems
Select Quick Fix my Program.
Open QuickBooks and run Loan Manager or Cash Flow Projector.
Solution 2: Enable Compatibility Mode in Internet Explorer 9, 10 or 11
Important: Although the steps below also apply to Internet Explorer 11 and older versions, please be reminded that Microsoft has already ended support and updates for Internet Explorer 10 and below versions. For security and compatibility, ensure that you have Internet Explorer 11 installed in your computer.
From the Tools menu, choose Compatibility View Settings.
Note: Press the Alt key if the Tools menu is not available.
Select Display all websites in Compatibility View, then select Close.
Solution 4: Restore default settings of Internet Explorer
From the Tools menu, choose Internet Options.
On the Security tab, select Internet, then select Default level.
Select Local Intranet > Default Level.
On the Advanced tab, select Restore advanced settings.
Select Apply, then choose OK.
Open QuickBooks and run Loan Manager or Cash Flow Projector.
If you continue to experience this issue even after performing the steps above, consult with an IT professional.