QuickBooks Commerce is no longer available for purchase as a stand-alone product.
The features referred to in this article are only relevant for customers who still have QuickBooks Commerce bundled with their QuickBooks Online subscription.
If you want to learn more about e-commerce accounting features that are part of QuickBooks Online, check out Accounting for e-commerce FAQ.
Find out how to use promo codes in your B2B store in QuickBooks Commerce.
Offering promotions can help grow your business in the B2B store. We'll show you how to use them.
Note: If you haven't yet, here's how to set up your B2B Commerce store.
Learn about promotions
Your customer can apply a promo code to their cart upon checkout. Using promo codes can:
Entice your customers with a discount and reduce the number of abandoned carts.
Encourage your customers to complete their purchases.
Generate more revenue and increase your conversion rate.
Impact the overall shopping experience with both prospective and returning customers.
Promotion statuses
Here are the different statuses of promotions.
Active: The promotion is live for customers' use.
Scheduled: The promotion isn't currently active but will go live as per the scheduled start date and time.
Expired: The promotion end date has lapsed and the promo code no longer works.
Disabled: The promotion is turned off. 
Calculation of successive discount 
If your customer already has a discounted price set in QuickBooks Commerce, you can still apply a new promo code. It'll be a successive discount.
Here's an example of how QuickBooks Commerce calculates discounts.
Customer A is part of a customer group that receives a default discount of 10% on QuickBooks Commerce. You created a new promotion of 5% for all your customers. This means Customer A will be eligible for a 14.5% discount off their total cart value.
The first discount is 10% and the second discount is 5%.
Add the first and second discount. Multiply the first and second discount, then divide the product by 100. Subtract that number from the sum of the first and second discount to get the total discount.

The formula for total discount is= [ 10 + 5 - (10*5) / 100 ]          
= 15 - (50 / 100)
= 15 - 0.5
= 14.5% total discount
Step 1: Create a promo code
Go to B2B eCommerce.
Select  Visit your B2B store.
Select B2B TOOLS.
Go to PROMOTIONS, then select Create a Promotion.
In the Promotion Details section, fill out the PROMOTION NAME, DISCOUNT CODE, VALUE, and NOTES fields.
In the Eligibility section, select which of your customers are eligible for the promotion.
In the Validity section, fill out the USAGE LIMIT, START DATE and START TIME fields. Note: If you want to set an end date, select the Set an end date checkbox. Then fill out the END DATE and END TIME fields. 
Select Create Promotion.
Select Okay, got it, or Don't show this again in the new window.
Step 2: Share the promo code
Here's how you can share the promo code link with your customers.
Important: The promo code associated with the link automatically applies to your customer's cart upon checkout.
From the B2B store homepage, select B2B TOOLS.
Go to PROMOTIONS, then select the promotion you want to share with your customers.
Select Share.
Select Copy Link.  
Share the link with your customers via text, email, or social media channels. When they select the link, it'll direct them to your B2B storefront.
Find out what your customers will see
Here's how the shopping experience would look for your customers.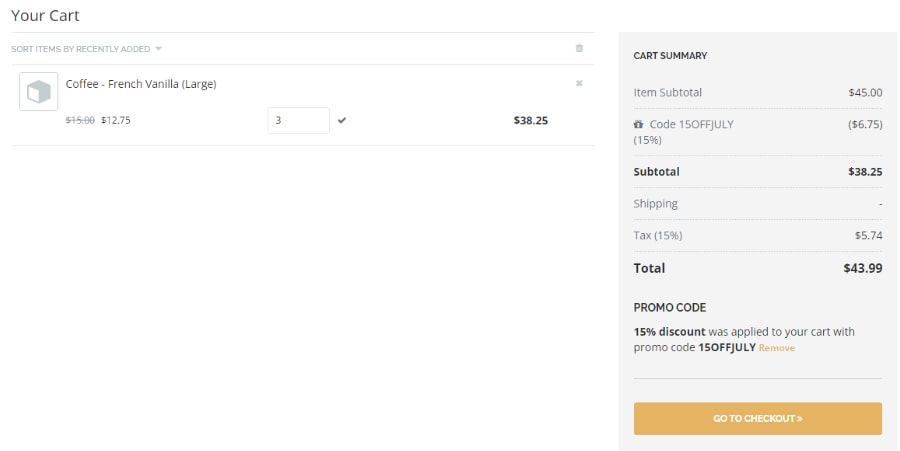 To use the promo code at checkout, they need to select Add a promo code. Then, enter the promo code and select APPLY.
Once applied, they'll proceed to complete their checkout as a happy customer.