Learn how to handle a tax overpayment.
Do you need to resolve a tax overpayment? We explain what you can and can't resolve. And how to best resolve the issue.
For more information underpayment, check out resolve a tax underpayment.
Overpayments: Which can you resolve
You can resolve these types of overpayments yourself.
All federal overpayments (940, 941, and 944)
State unemployment insurance (SUI) overpayments
SIT overpayment for some states
You'll see a screen like this:

Don't attempt to resolve an overpayment if you haven't yet run your final payroll for the liability period. Additional payrolls may increase your tax liabilities for the period.
You can't resolve these overpayments yourself. You need to contact Payroll Support.
Specialized tax overpayments, including state disability insurance (SDI)
Workers' compensation (WC)
You'll see a screen like this:

Please contact Payroll Support to resolve these overpayments.
What causes a tax overpayment?
One or more paychecks were deleted after a tax payment was made.

A tax rate was decreased after a tax payment was made.
A duplicate tax payment was made.
A historical tax payment was incorrectly entered.
How do I know I have a tax overpayment?
A negative entry on the Pay Taxes page in your payroll account.

An indication of an overpayment when you attempt to file a form.
Receipt of a notice of credit from the IRS or state tax agency.
What happens if I don't correctly resolve an overpayment?
You won't receive the credit that's owed to you.
In most cases, our system won't allow you to generate a form if there's a tax overpayment associated with the form.
Our system won't allow you to pay FUTA if SUI overpayments or underpayments are present in your account.
How do I know the tax overpayment is valid?
Not all tax overpayments are valid. The following are examples of actions that can lead to invalid overpayments:
Incorrectly entered tax rate.
Incorrect liability period on a tax payment.
Incorrectly recorded historical tax payment.
Resolving the overpayment
1. Verify that the overpayment appears as a negative amount on your Pay Taxes page.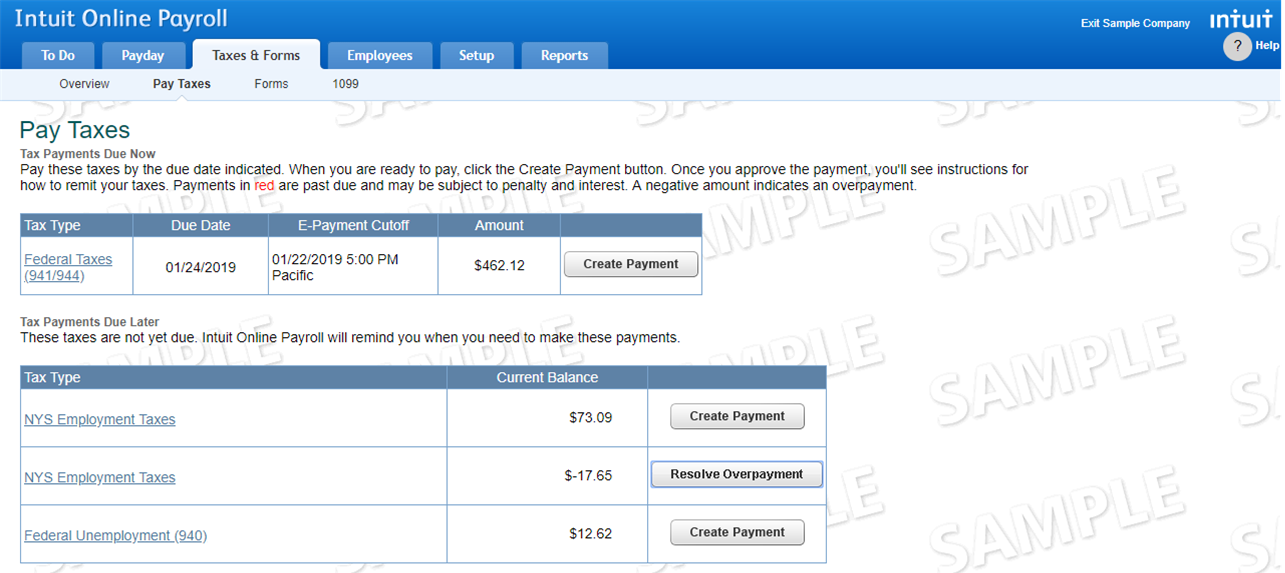 2. Select Resolve Overpayment. You'll see a summary of the overpayment.
3. If the state tax agency allows you to either request a refund of the overpayment or apply it forward, you'll see the re-payment options on the next page, as shown in the example below. (If it doesn't give you a choice the correct resolution will automatically be marked.)
3. Make your selection, and Save.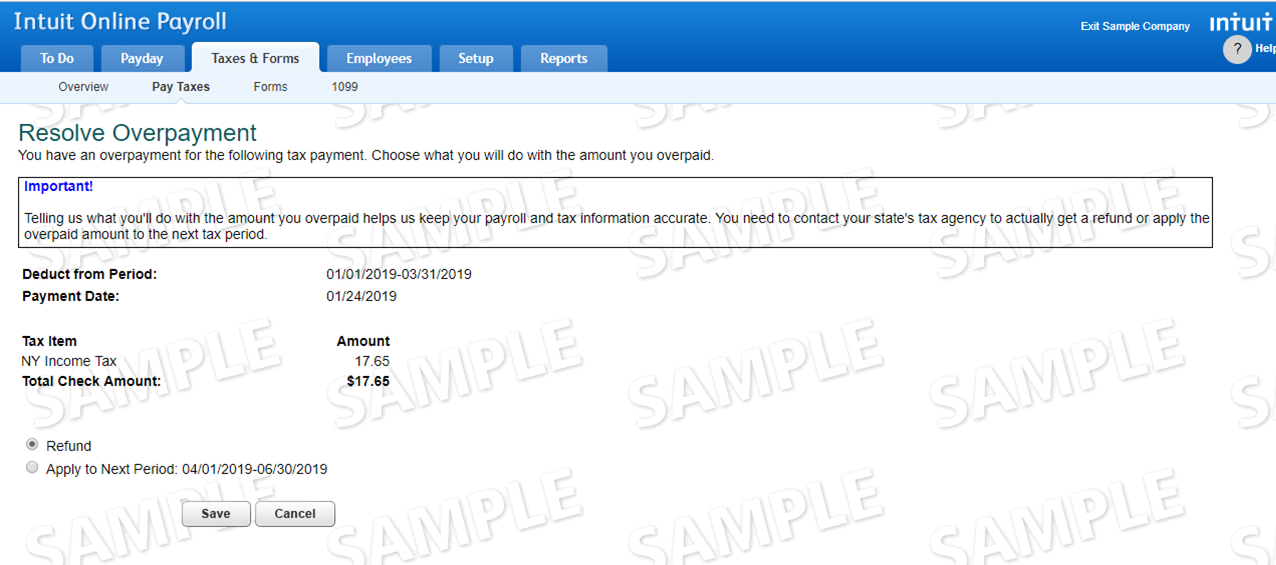 4. Review the resolved overpayment. The resolved overpayment will appear as a negative entry in the Tax Payments Report:

Things to know
Telling us what you'll do with the amount you overpaid helps us keep your payroll and tax information accurate.
Resolving an overpayment in Online Payroll doesn't actually send a request to the tax agency for a refund or to have the overpayment applied forward. It only records whether you are going to receive a refund or have the amounts applied forward so that the tax amount owed in your payroll account is reconciled.
In some cases, the overpayment will be shown on the tax forms you filed. In other cases, you'll need to contact the tax agency to actually get a refund or have the overpaid amount applied to the next tax period.
Sometimes a future-dated tax payment is associated with an overpayment. In that case, you may be able to delete the pending payment. You'll then have to recreate it for the correct amount. In other cases, the tax payment is already "locked in." You'll need to resolve the overpayment.