Deductions for healthcare and taxes are a tad tricky to understand. We'll do our best to give a basic overview here.
Types of healthcare deductions
We help determine your eligibility (and estimate amounts) for 2 types of healthcare deductions:
In contrast to premiums, HSA contributions are deductible for everyone, as long as their plan meets IRS qualifications.
Where do healthcare deductions show up?
Both types affect your household's overall tax picture. But neither are a part of your self-employed expenses, deductions, or profits. And they won't appear on your Schedule C either. They're personal deductions, not business ones, so they affect your adjusted gross income.
Confused? Maybe a super-simplified diagram will help: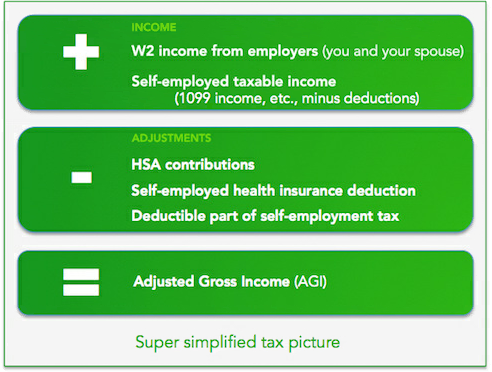 In our app, the Taxes > Annual Taxes page shows totals for your healthcare spending and deductions. They're listed in their own section below the Schedule C categories. Note that totals for the healthcare categories won't appear until you complete your health profile and start categorizing these transactions.