Problem
When downloading payroll tax table updates, the following error message shows:
The payroll update did not complete successfully. Please try again. You must successfully download the update by the deadline displayed in the QuickBooks Desktop Payroll Information window. (Choose Get Payroll Updates from the Employees menu.) If this message persists, contact technical support and provide the representative with the following code: To get current contact information for Intuit, choose Help & Support from the Help menu, then click Phone Directory. [PS101] [505]
The Internet connection settings are not initialized correctly. This error can also be due to a firewall preventing QuickBooks Desktop from accessing the Internet.
Expected Outcome
You will be able to download the latest payroll updates.
Assumptions
You have an active QuickBooks Desktop payroll subscription.
Details
To resolve this issue:
Repair the Internet connection settings:
Step 1: Download and install the QuickBooks Tools Hub
The QuickBooks Tool Hub helps fix common errors. You'll need to close QuickBooks to use the tool hub. For the best experience, we recommend you use Tool Hub on Windows 10, 64-bit.
Close QuickBooks.
Download the most recent version (1.5.0.0) of the QuickBooks Tool Hub. Save the file somewhere you can easily find it (like your Downloads folder or your Windows desktop). Note: If you've installed Tool Hub before, you can find out which version you have. Select the Home tab. The version will be on the bottom.
Open the file you downloaded (QuickBooksToolHub.exe).
Follow the on-screen steps to install and agree to the terms and conditions.
When the install finishes, double-click the icon on your Windows desktop to open the tool hub.

Note: If you can't find the icon, do a search in Windows for QuickBooks Tool Hub and select the program.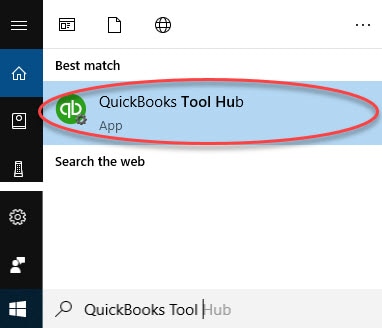 Step 2: From the Tools Hub, run the Quick Fix my Program
In the QuickBooks Tools Hub, select Program Problems.
Select Quick Fix my Program.
Open QuickBooks and download your payroll tax table update.
Configure any third-party programs, such as a firewall.
Configure Internet security, personal firewall, and parental control applications for QuickBooks Desktop.