Intuit
How to check your version of ProFile and find any new updates
For ideal performance, current tax rates, and the latest features it is important to keep your version of ProFile up-to-date. You may also be asked for your version number if calling our support team for assistance.
Finding your current version
Checking your current version and finding any new updates is easy and convenient from within ProFile.
1. Select the About option from the Help drop-down menu in the top toolbar.
The About window displays.
2. Review your current Version number (for example, "2019.4.5"):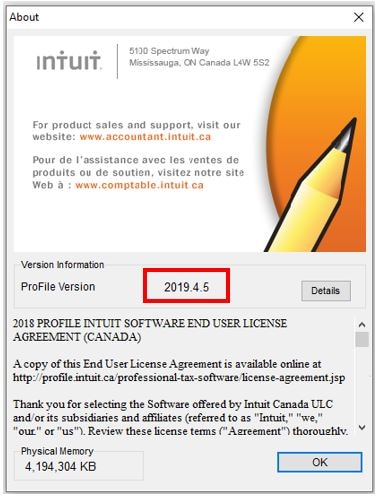 Checking for updates
1. Select the Check for Updates option from the Online drop-down menu in the top toolbar.
ProFile checks if any updates are available. If a new version is available, a prompt will appear to update the software.
Note: as new versions are available at various times, ProFile users are encouraged to set the options to check for updates on a regular basis, allowing notifications to appear when new versions becomes available.
For more information on setting this option, review our support article.