Learn how to map your payments in QuickBooks Connector (OneSaas).
Integrating with QuickBooks Connector provides the option to map your eCommerce payment methods to corresponding payment accounts in your QuickBooks Online account.
How this works
When integrating invoice payments using QuickBooks Connector, you can determine how different payments appear in your QuickBooks Online account. We get all your payment methods from the invoices originating system. For each method, you can select an account to add the payments to in your QuickBooks Online.
Why is this useful?
Mapping different payment methods to different accounts in your QuickBooks Online gives you more control over how your data integrates.

For example, you may want all PayPal payments to go to a PayPal clearing account in your accounting system. However, you wouldn't want your credit card payments to go to the same account. This allows you to do that.
How can I configure this?
At the start of your configuration, enable the push of payments to QuickBooks Online.

Select a default payment account from the Deposit Payments into Account ▼ dropdown.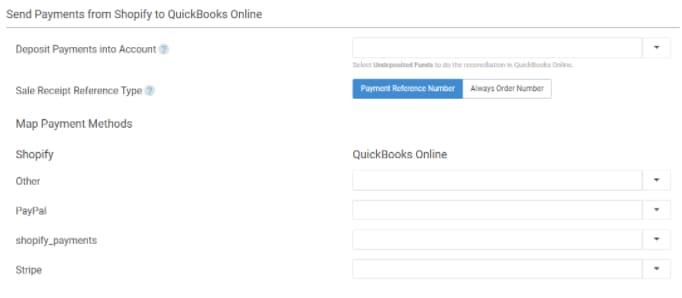 All payment methods that aren't individually mapped will be mapped to the default account you selected.
Select Map Individual Payment Methods if you wish to map all your Shopify payment methods to a corresponding account in QuickBooks Online.

Well done! Your payment methods are now mapped to your various accounts in your QuickBooks Online account.
Tips:
If the account you're looking for isn't there, try to select the dropdown menu to find a refresh button. This will refresh your accounts in QuickBooks Online.
If the account still isn't visible, check it out in your QuickBooks Online account and make sure it can receive payments.
Multi-currency is also supported in the sync between QuickBooks Connector and QuickBooks Online or QuickBooks Online Accountant, as long as the multi-currency is enabled within both the eCommerce channel and your QuickBooks company file.