QuickBooks will not let you record transactions that contain:
Two A/R accounts
Two A/P accounts
One A/R account and one A/P account
Saving these transactions will result to the message: Warning: You cannot use more than one A/R or A/P account in the same transaction.
To work around this, choose from the following options:
Manage bad debt in accrual method
When you are recording bad debt in the accrual method, you need an Allowance for Bad Debts account.
To avoid or fix the error, you need to set up the Allowance for Bad Debts account as an Other Current Asset. If you want to set it up with the normal Accounts Receivable type, you need to set up a clearing account as go-between for the two A/R accounts when recording journal entries.
Write off a receivable against a payable
If you have a customer who is also a supplier, you may need to write off a receivable against a payable. You cannot do this in a single transaction since that transaction would have an A/R account and an A/P account. You need to use a clearing account and make two transactions.
Transfer an amount between A/R or A/P accounts
If you have multiple A/R or A/P accounts and you recorded a transaction to the incorrect account, you need to correct the original transaction or create a journal entry to a clearing account and enter a second journal to move it to the correct A/R or A/P account.
Remove A/P as the default supplier pre-fill account
As it technically leads to using two A/P accounts in a transaction, you may also get the warning message when you set up QuickBooks to automatically pre-fill accounts for a supplier and you choose Accounts Payable as the default account. To prevent this problem, remove Accounts Payable from the supplier's Account Settings and make sure to only use expense accounts for the supplier.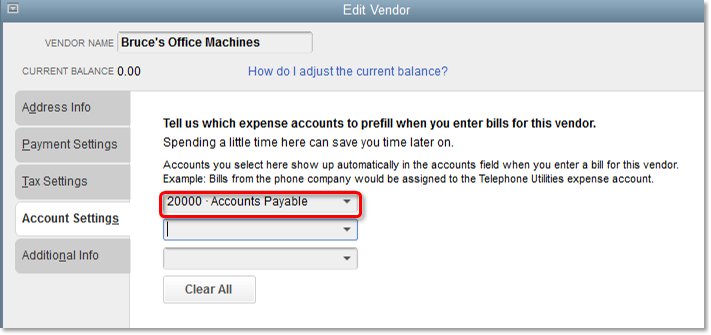 From the Suppliers menu, select Supplier Centre.
In the Supplier Centre, double click the name of the supplier.
In the Edit Supplier screen, go to the Account Settings tab and from the drop-down, remove Accounts Payable. Note that the drop-down should only have expense accounts.
Select OK.