QuickBooks Desktop Payroll Pricing Update for Pro and Premier
Starting December 1, 2021 QuickBooks Desktop Payroll pricing for Pro and Premier is changing to include an additional $4 Per-Employee Fee. This means that in addition to the current fixed price of $46, you will be charged $4 for every employee paid using QuickBooks Desktop Payroll in a billing period, regardless of the number of times these employees are paid.
Why is your price changing?
In the same way that you value your business, Intuit commits to continuously improve QuickBooks, helping customers and partners like you achieve business growth.
Our mission to power prosperity around the world means continuous innovation and investment in technology that we often have to assess our price structure.
Which QuickBooks Desktop product prices are changing?
This price change affects the QuickBooks Desktop Pro + Payroll and QuickBooks Desktop Premier + Payroll products.
How will I see how much I am being charged as per-employee fee?
You can view the total amount and the number of employees the charge is for in your invoice. Here's a sample invoice for your reference: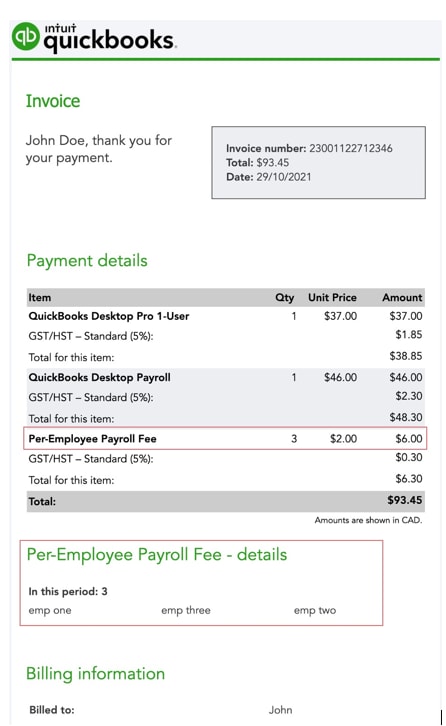 How long until the next pricing update?
We don't update prices on a calendar schedule. While we work on keeping price points constant, updates are occasionally necessary as we invest in new features and technology to make QuickBooks Desktop Payroll the best-fit for your payroll needs.
How does Intuit know how many employees I paid?
After a successful payroll run, QuickBooks Desktop Payroll sends two details to the billing system, strictly for the purposes of calculating the per-employee fee for the billing period. These details are the paycheque creation date and employee name. The billing system only receives the details of the employees that were paid and not all active employees on the company file. No other information is sent and Intuit does not have access to any additional information on the company file.
Why am I getting notified if I don't have any customers in QuickBooks Desktop?
QuickBooks Desktop is an offline tool. To ensure all relevant users are notified, we sent a notice to a broad audience. This ensures that we are transparent about changes to our pricing and how it might affect you and your small business clients.