Learn more about which versions of Windows 10 are compatible with QuickBooks Desktop.
How do I check my Windows 10 version?
Not everyone uses Windows 10 on the same release. Check your release and other specifications.
Select the Start menu and type About your PC.
Select About your PC, then scroll down to find your version number.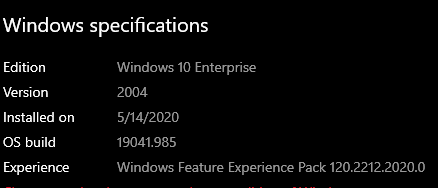 For the best experience, make sure you're on a version Microsoft currently supports.
Enable .NET Framework 3.5 to ensure optimal compatibility with QuickBooks Desktop
Some instances of Windows 10 don't have .NET 3.5 Framework enabled by default.QuickBooks Desktop needs to this to work properly. To have the smoothest experience on Windows 10, enable .NET Framework 3.5.
On your keyboard, press Windows+R to open the Run window.
Type Control Panel, then select OK.
Select Uninstall a Program, then Turn Windows features on or off.
Ensure .NET Framework 3.5 is enabled (checked), as well as .NET Framework 4.5.

If it's not, select it and then select OK.
If it is, select Cancel.
Check out these other helpful resources for Windows 10