Learn how to work with time data imported from LMN.
Time tracking information can be exported from LMN Time into QuickBooks. This includes the employee's time and wage item, the number of hours, and the Customer:Job.
This will import in as non-billable time and will show on both the time sheets and single activities. They'll show the customer job along with the service item and the payroll item. You can also choose to have the time show on the employee's payroll.
Working with service items
Service items imported into QuickBooks from LMN will show as the Cost Codes from LMN. These aren't the actual service items that show in LMN timesheets or from QuickBooks service items.
Note: These items are not marked as billable, so they won't be added to invoices. The service items you see on invoices will come from the estimate the invoice is created from.
If Job Costing is used, the service item from the QuickBooks item list should be used instead of these.
The LMN wage item is found in LMN Time and on the employee's timesheet.
Working with payroll wage items
When you connect LMN Time and QuickBooks, the payroll wage items in LMN need to be mapped manually to QuickBooks Payroll wage items. The wage items in QuickBooks don't need to be the same as wage items in LMN.
Here's how to add wage items for an employee in QuickBooks: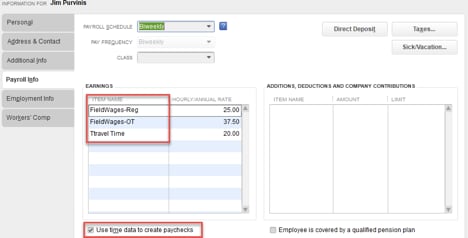 If you'd like the LMN times to go through to the paycheques, select the checkbox for Use time data to create paycheques.
Add any additional payroll info, then select OK.
Repeat these steps for all employees that track time in LMN.
If an employee works more than one day on a specific Customer:Job, the times from the timesheets will be combined on the paycheque detail for that Customer:Job.
These payroll wage Items will be treated like any other QuickBooks Payroll item with the appropriate taxes and other deductions affecting them.