The 'WorkPapers' or Trial Balance feature is designed for Accounting professionals to simplify year-end accounting processes. Its goal is to save time and resources required to gather formal reports and financial statements at year-end.
This feature is available in QuickBooks Online Accountant edition and is accessible via the Accountant dashboard. All information and notes entered into the 'Working Papers' is automatically saved, and is only made visible to Accountants and Bookkeepers (clients will not have visibility). Once all year-end adjustments are made through WorkPapers, accountants can quickly and easily complete corporate tax returns using GIFI codes.
Feature highlights
Trial Balance activity timeline: a filterable timeline that displays client and Accountant activities impacting balances
Make adjustments in Trial Balance: one-click access to transaction details
Add notes and attach documents that will only be visible to you and your firm
Other transactions: shows all non-adjusting journal entries and re-classified transactions
How to access WorkPapers
Login into the QuickBooks Online Accountant firm where you'll see the client you were granted access to.
Select the hyperlink text under the WorkPapers column, or if you're logged into the client file, visit the link: https://ca.qbo.intuit.com/app/trialbalance.
The screen will display a Working Trial Balance. You can adjust entries by clicking on the + button. You can also browse for documents, drag and drop, or leave notes for team members under the WorkPapers column.
How to export from QuickBooks Online to a GIFI file
In QuickBooks Online Accountant, go to the WorkPapers section for your client's books.
Check the Working Trial Balance, and the GIFI Mapping to insure that all the work is completed. Any unassigned codes can be done under GIFI mapping section.
To assign GIFI codes, go through the list and select Assign GIFI Codes.
A row will appear beneath the line you wish to map. Select the GIFI code from the list.
Once completed, select Save GIFI code at the top right. This will save the information in GIFI file format
Open ProFile and create a return or open the return you want to import the GIFI codes into.
From the File menu, select QBOA Import.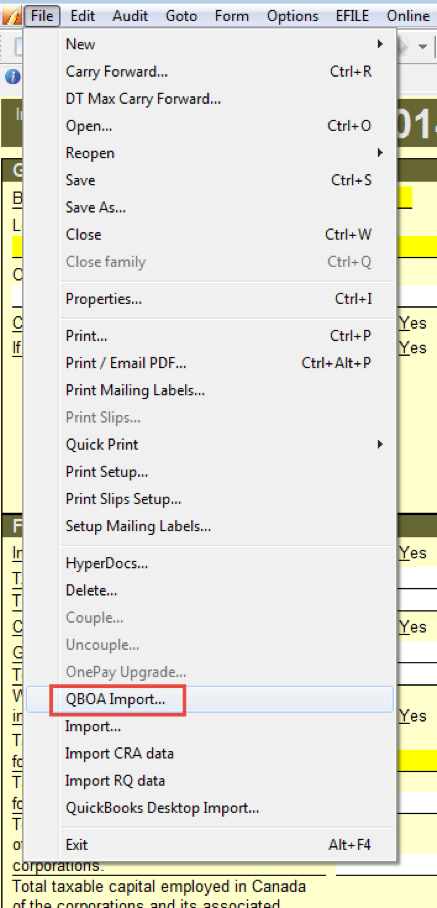 Select OK, and the export is completed.
How to print from WorkPapers
With either Working Trial Balance selected or GIFI Mapping selected click the printer icon as seen in the screenshot below. Examples of both Print Previews are displayed below.
Working Trial Balance Print Preview
GIFI Mapping Print Preview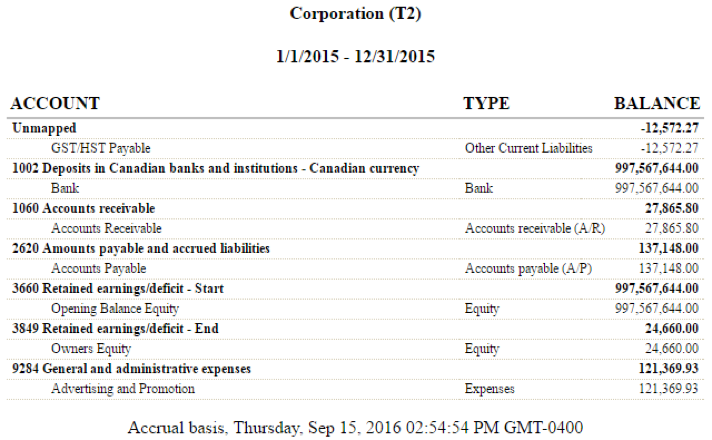 Frequently Asked Questions
Does WorkPapers only work with ProFile?
No, it is a standard GIFI file that will integrate with QBOA and all major software.
Does WorkPapers work with TurboTax Business Incorporated?
At this time it does not work with TurboTax Business Incorporated.
Does WorkPapers work with non-Incorporated businesses?
No, at this time there is no GIFI import into the T1 return.
How do I access my client's company files?
The process of accessing a client company's file remains the same, the navigational component will not change. Client files can be accessed directly from the QBOA dashboard. WorkPapers is a new functionality that is being added to Quickbooks Online Accountant. The current software interface will remain the same.
Is WorkPapers only available to Accountants?
Workpapers is available to all Accounting professionals who use the QuickBooks Online Accountant software.
Can I use WorkPapers for my personal tax return?
Currently, WorkPapers only supports corporate tax return.
If another Accountant in my firm makes changes to WorkPapers, how can I review the Audit trail?
You can review the changes made to WorkPapers in QuickBooks Online by accessing the Audit Log under the Gear icon or Recent Transactions icon.
Can you update WorkPapers simultaneously with another user?
No, only one Accountant will have accessibility to update a client's file at a time. This ensures that redundant/duplicate work is not entered into WorkPapers.