Note: if you are a National, Elite, or Platinum ProAdvisor you can still take advantage of our full-slate scheduled service appointments. Review the ProAdvisor Tiers and the benefits they unlock in QBOA by selecting ProAdvisor, then Benefits.
What is the call-back feature?
Call-back is a new feature that allows you to request a callback from Support instead of waiting on hold for an available agent.
Who can use call-back?
QuickBooks Online for Accountants (QBOA) customers
QuickBooks Online (QBO) users
How does call-back work?
Simply enter your contact information and a support agent contacts you directly via phone within a few minutes.
Why use call-back?
The goal of the call-back feature is to improve your customer experience when seeking support. It increases your productivity because instead of waiting on hold you can schedule a callback and work while you wait.
How to request a call-back
Click the Help option in the top-right corner of your QuickBooks product.
Enter your issue in the search bar (for example, "update credit card") and review the results.
If you don't find a solution, select the Contact Us button: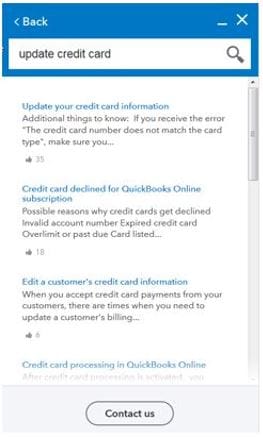 On the Ways we can Connect menu, select the Get a callback button.
The contact information window displays.
Enter your contact information and select the Call me button.
You'll see confirmation of your request and the estimated time until a support agent calls you back: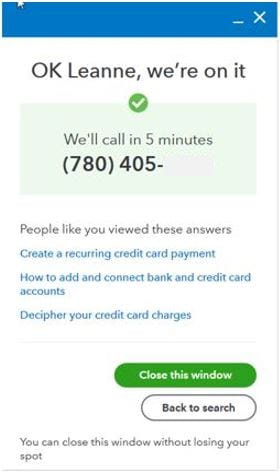 Select the Close this window button and wait for your call (closing the window will not lose you your spot).