Overview
If you paid contractors in the past year and use QuickBooks, the 1099 Wizard will help you save time and easily file your 1099-MISC forms.
You will be able to prepare, review, and file all the required copies of your 1099-MISC forms and form 1096 (if filing by mail) to the IRS in a few simple steps.
QuickBooks Desktop now supports 1099 boxes 16 & 17 for filing state taxes. 1099 forms filed in New Jersey or Wisconsin have special rules for boxes 16 & 17.
Details
To access the 1099 Wizard, go to Vendors > Print/E-file 1099s > 1099 Wizard, then select Get Started to proceed through the wizard.
Note: If you are filing for New Jersey or Wisconsin, you will see a pop-up message.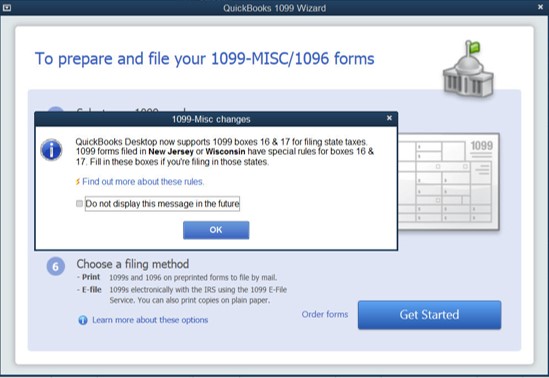 If you would like to print your 1099 and 1096 forms and file by mail, pre-printed forms are required and can be purchased from the Intuit Market.
Important Notes:

The IRS does not accept forms on plain paper.
QuickBooks only prints the vendor data and not the actual form.
QuickBooks may not be compatible with the freeprint 1099 template off the IRS website.