QuickBooks Online currently does not have a calculation feature for sales commissions. However, there is a way for you to track your sales by employee, sales rep, etc. using its two tracking features: Class Tracking and Location Tracking.
To turn on the Class Tracking or Location Tracking features
Select the Gear icon at the top then Account and Settings (or Company Settings.)
Select Advanced from the left navigation menu.
Choose the pencil icon next to Categories.
Put a check mark on the Track Classes or Track Locations checkmark boxes.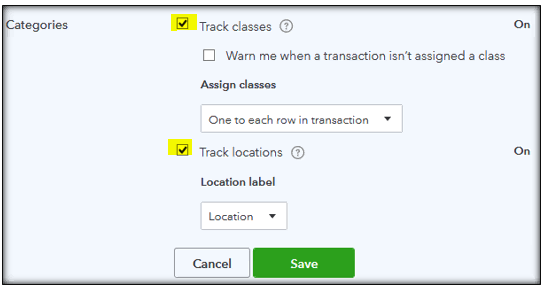 Now it's time for you to create a Class or Location list!
After creating your Class or Location list, you can now add your sales people as either a Class or a Location to enable you to track their sales individually. When you enter in transactions, you'll have fields for Class and/or Location. You can then select the salesperson associated with that transaction.
To find out how much each salesperson sold, you can run sales reports by Class or Location. You can also run Profit and Loss reports by Class or Location. To pay your salesperson their commissions, run the Sales by Class/Location report, and then multiply your salesperson's commission percentage by the amount they sold then go to the Write Check window to pay your salesperson.
Note: Your reports may or may not display transactions based on your accounting method (cash basis or accrual basis.) When this happens, change the accounting method on the report by following the steps in this KB article How do I change the accounting method for my company?.