Learn how to personalize your forms, change the design, and add the info that matters to you.
QuickBooks Online gives you the tools to create attractive, professional-looking invoices, estimates, and sales receipts. You don't need to be a designer to make eye-catching forms that represent your brand. Custom forms are a great way to boost your business' image.
You can change the basic design, layout, and info that appears on your forms. Once you create your masterpiece, save it as a custom template so you can use it any time.
Step 1: Create a new template
You'll create separate templates for your invoices, estimates, and sales receipts.
Go to Settings ⚙ and then select Custom Form Styles.
Select New Style.
Select the type of form you want to create: Invoice, Estimate, or Sales Receipt.
Step 2: Design your template
You'll see a preview of your changes in the sample form as you make them. Whenever you're ready to save your changes, select Done in the footer.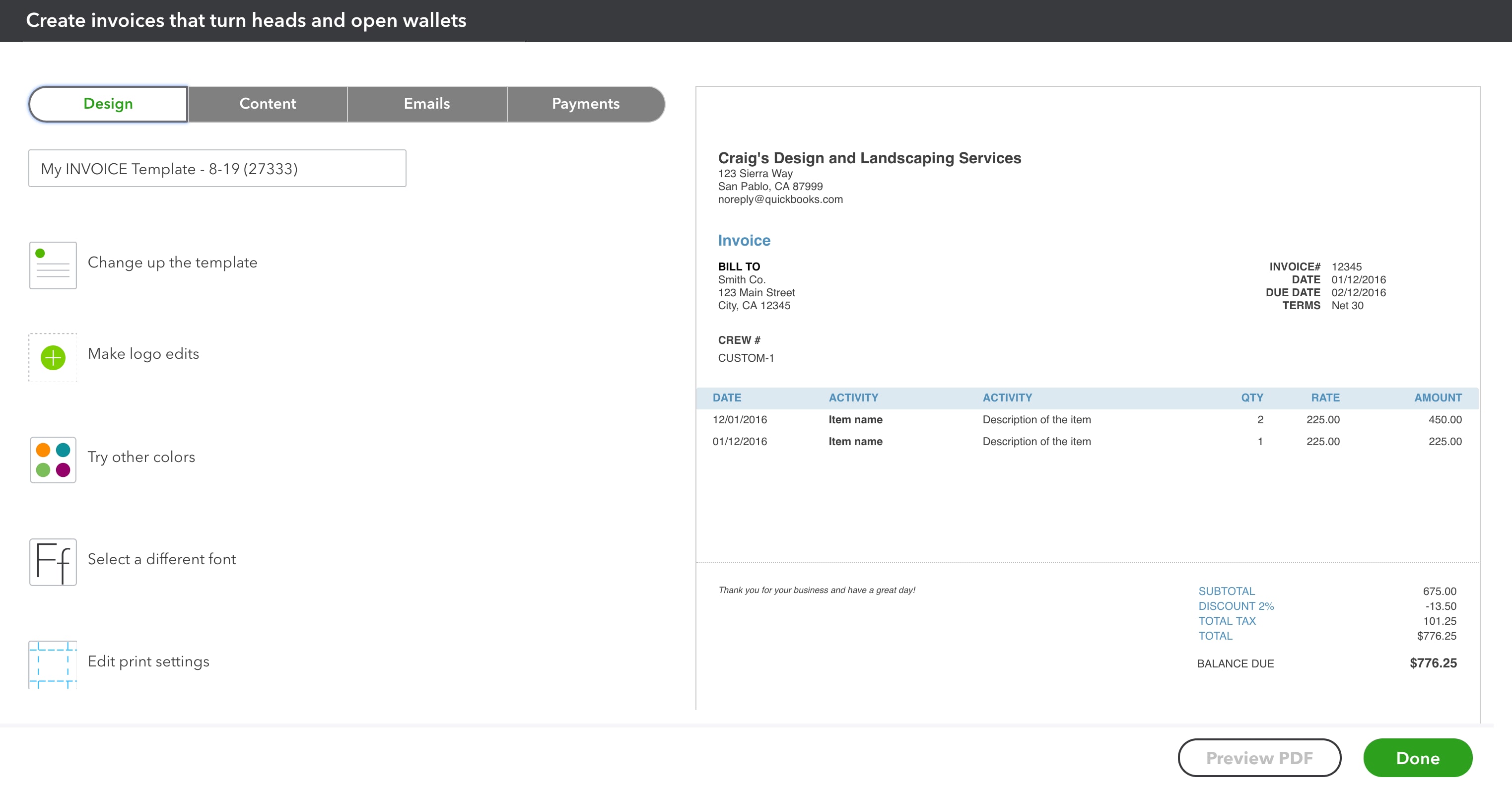 Customize the look
First, adjust the general layout and look of your template.
Select the Design tab.
Give your template a name.
Select Dive in with a template to choose a layout. These layouts are fixed. We recommend the Airy Classic layout. If you want to add SKUs or create progress invoices, you need to use Airy Classic.
Select Add your unique logo if you want to upload a new logo.
Select Splash on some color to pick a color scheme. You can also enter a hex code to add a custom color.
Select Get choosy with your font to change the font and size.
Select When in doubt, print it out to adjust the margins. This is important if you like to send printed forms to your customers.
Step 3: Customize the info on your forms
Go to the Content tab and start customizing the details. Forms have three sections: header, table, and footer.
Select a section on the sample form to edit the contents. You'll edit each section separately.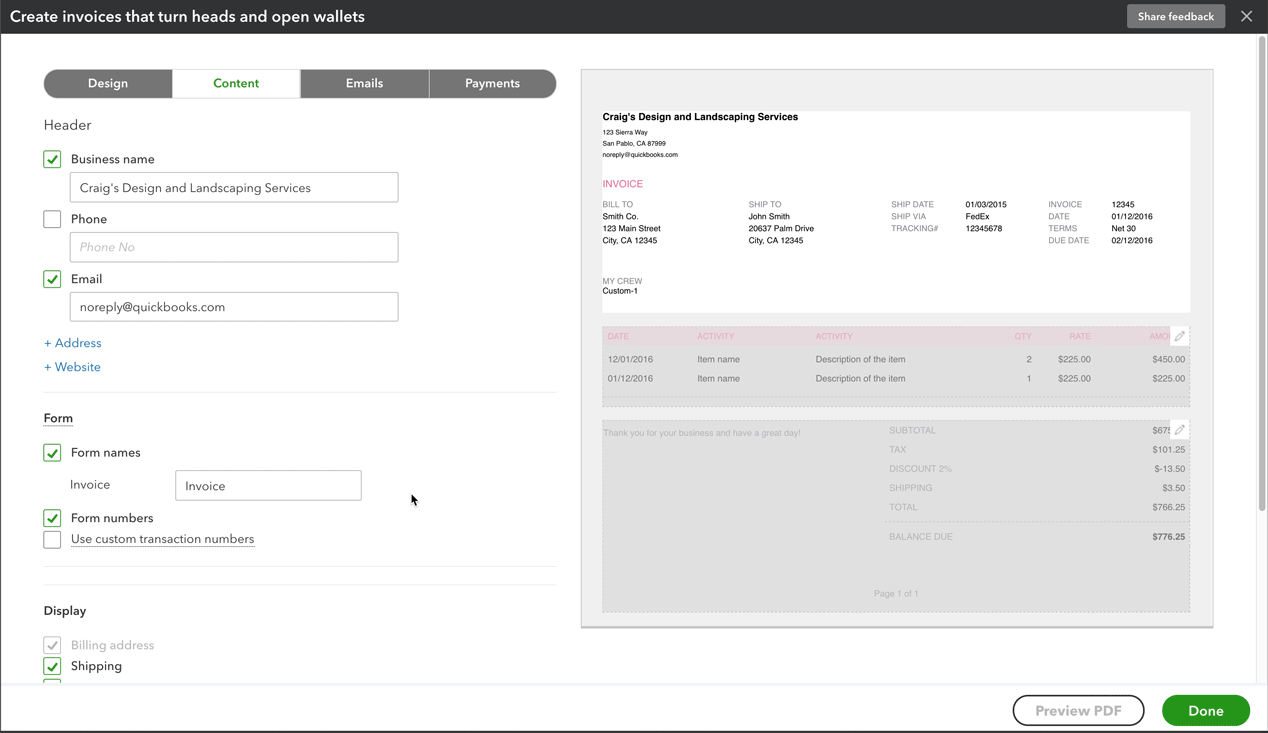 Edit your company info
Your company info automatically appears in the header. You can remove data fields this if you want customers to only see certain info.
Customize the data fields
You can edit data fields labels and decide which appear on your form. You have tons of options. We won't cover them all, but here are a few highlights:
Change data field labels
Select one of the sections (header, table, footer). If you select the table section, first select edit labels and widths. Then you can edit the data fields.
Select a data field.
Enter a new label.
Step 4: Personalize your email message
You can customize the message your customers receive with their form. If you want to use your default messaging, you can skip this part.
In the Custom Form Styles window, go to the Emails tab. You can edit the subject line, greeting, and message body. You can even customize reminder emails.
Step 5: Turn on online payments for invoices
By default, invoices aren't set up for electronic payments. If you want to get paid faster, let your customers pay their invoices online.
To do this, you need to turn on QuickBooks Payments. This is an add-on payment processing service.
You can turn on payments once you're finished customizing your form. To start, create a new invoice:
Select Create (+) and create an invoice.
If you haven't already set up QuickBooks Payments, select Finish setup.
Once you've signed up, select the payment options you want to make available.

Learn more about QuickBooks Payments.
Step 6: Edit your templates
To manage your custom templates, select Settings ⚙ and then Custom Form Styles.
You'll see your custom templates alongside a standard template on the list.

QuickBooks creates a standard template based on the first custom template you create. It's your default template for invoices, sales receipts, and estimates.
If you want to make one of your custom templates your default:
In the Custom Form Styles window, find your template.
From the Action column, select the arrow icon.
Select Make default.
To edit your custom and standard templates:
In the Custom Form Styles window, find your custom or standard template.
From the Action column, select Edit.
Step 7: Apply a template to an invoice, sales receipt, or estimate
QuickBooks uses your default template each time you make a new invoice, sales receipt, or estimate.
You can also select a specific template for a specific transaction directly on the form.
Create or open an existing invoice, sales receipt, or estimate.
Select Customize in the footer.
Select your custom template from the list.