You can set up a bank or credit card account with multiple subaccounts to easily connect it to your bank and reconcile downloaded transactions in QuickBooks Online.
Set up the parent and subaccounts
The most common way to set up a bank account or credit card account with multiple cards associated with it is to create a parent account and then have each individual card set up underneath as a subaccount.
In the Chart of Accounts, the parent and subaccounts look like the following: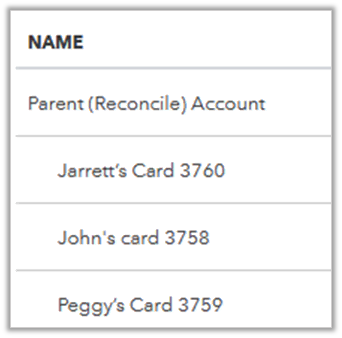 If you have an additional account that transactions such as payments come into, you may need to add one more subaccount, as in the following: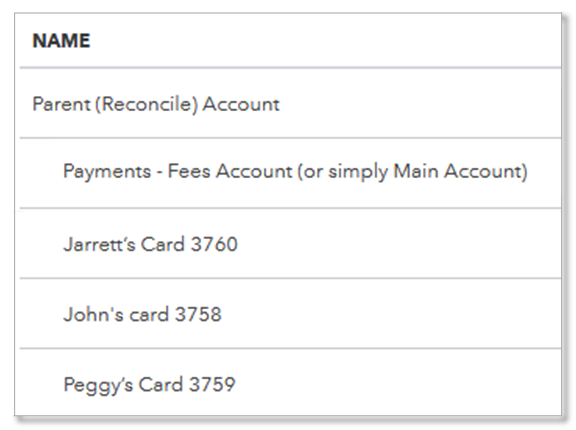 Still need to set up the parent and subaccount? See How to create a new parent account or subaccount.
Connect the accounts to Online Banking
Before connecting to Online Banking, you need to know how your bank sends the downloaded transactions. If the transactions download to one account, connect only the parent account. If the transactions download to the individual accounts, connect the subaccounts and not the parent account.
You can't connect both a parent account and its subaccounts. If you try to connect both, you'll get a message that the account is already connected.
When initially connecting your account, the same opening balance transaction may download to all subaccounts. You must delete all but one of these balances when you reconcile.
Some banks may show the overall bank balance at each subaccount level. This is because the bank provides us with a static balance of the entire account, not the balance of each subaccount.
If your bank does not offer online services, or if you do not want to connect the parent or subaccounts to online banking, you can create checks and deposits for the accounts as usual, or manually add transactions to your bank register.
Reconcile the account
When it's time to reconcile, you only need to reconcile the parent account because all transactions in the subaccounts roll up into it.
Now you know how to set up a subaccount. If you need further help reconciling accounts, see How to reconcile accounts for a step-by-step guide.