Learn how to use bank rules to automatically categorize transactions from your bank.
When you download transactions from your bank, you need to categorize them so they go in the right accounts. Bank rules speed up this review process. You can create rules that automatically categorize transactions for you. The more QuickBooks uses your bank rules, the better it gets at categorizing. After a while, it can even scan transactions and add details like payees.
Note: When QuickBooks doesn't know how to categorize a transaction, it uses a default account to temporarily hold them. These accounts are Uncategorized Income, Uncategorized Expense, Uncategorized Asset.

You can't use these accounts to create bank rules.
Step 1: Create a bank rule
Go to the Banking menu or Transactions menu. Then select the Rules tab.
Select New rule.
Enter a name in the Rule field.
From the For ▼ dropdown, select Money in or Money out.
From the In ▼ dropdown, select the bank or credit card account.
Set the rule conditions. Decide the transaction must meet All or Any of the conditions. You can add up to 5 conditions.

Tip: Instead of creating multiple rules, you can create ones with Or conditions. QuickBooks edits transactions when they meet any of the outlined conditions. To do this, specify When a transaction meets any of these conditions, then select Add line.

In the Conditions fields, specify whether the rule applies to Bank text, Description, or Amount. Then select Contains, Doesn't contain, or Is exactly to decide when how Quickbooks applies the rules.
Select the settings for the rule. Select the Transaction type, Payee, and the Category to apply.
Select Save.
QuickBooks automatically applies your rules to transactions in the For Review tab. These are the ones you need to review every day.
Tip: You can quickly add a rule for transactions in the For Review tab. Just choose a transaction then select Create rule from this transaction link to open the Rule Window and start setting conditions for the rule.
Step 2: Review recognized transactions
Whenever QuickBooks uses one of your rules, it puts those transactions in the Recognized section of the For Review tab. It also adds a "Rule" label to the transaction.
If everything looks good, select Add to move the transactions directly into an account in QuickBooks. You can also select and review it before you move it.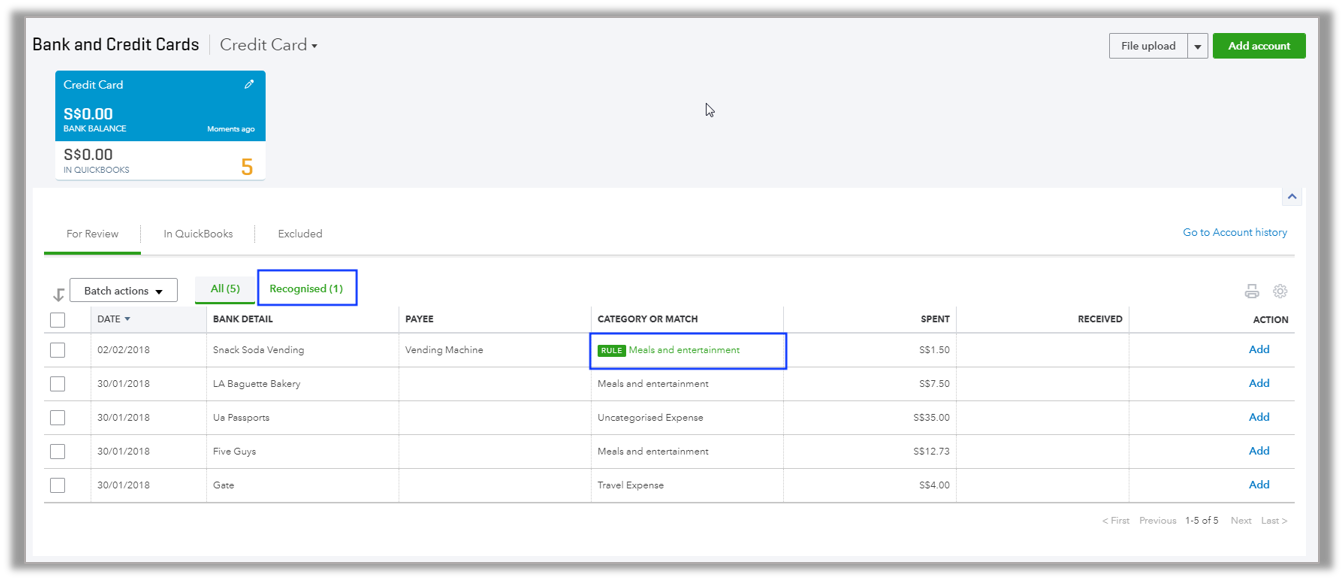 Next steps: Consider the auto-add feature
You can create targeted rules so specific transactions are automatically accepted into your books from the Banking page.
Important
: We recommend starting with easy, consistent transactions like rent or gas expenses first. Once you get the hang of the feature, you can use it to cover more transactions.
To turn this option on:
Follow the steps to create a new bank rule.
Select the Automatically add to my books option on the Rules window.
Select Save.
After you create an auto-add rule, any transactions on the For Review tab that meet the conditions are automatically added. Auto-add rules run when you log in, upload a file, or create or modify a new auto-add rule.
In most cases, a message shows how many transactions were automatically added.
Uploading a WebConnect file to an account with the Auto-add option turned on generates the warning: Uploading this file may cause duplicate transactions to appear at some time in these account(s): If you continue, the account(s) will be set to No Automation. Are you sure you want to continue?
This message means that the Auto-add option has been turned off to avoid duplicating transactions, so you must manually add the transactions you've uploaded.