Learn how to create, modify, and fix common issues with renaming rules for Bank Feeds in QuickBooks Desktop.
Renaming rules are available only if you are in the Express Mode (known as the Side-by-Side mode in earlier versions of QuickBooks Desktop).
If you are in the Classic Mode, you will use payee aliasing instead.
Renaming rules are company file-specific.
Create a renaming rule
From Banking menu, Bank Feeds > Bank Feeds Center.
Select Rules in Bank Feeds window.
In the Rules List window, select Manage Rules drop-down then choose Add New.
In Add Rules Details window, provide a Rule Name.
From the Description drop-down, make a selection and in the Description field, type a word or phrase you want to use as the condition for the rule. If you want to create more conditions, select + button.
In the Do This section, make the appropriate selection from the drop-down and depending on your selection, enter the Payee name or the Account name.
Select Save.
Modify a renaming rule
From Banking menu, select Bank Feeds > Bank Feeds Center.
Select Rules in Bank Feeds window.
In the Rules List window, highlight the renaming rule you need to change.
From the Action column, select the drop-down and choose:

Edit Rule: If you need to change details of the rule. Make the appropriate changes then click Save.
Delete Rule: If you need to remove the rule. Click Yes when prompted to confirm if you want to delete the selected rule.
Add transactions with renaming rules
When you download transactions into your Bank Feeds, they are usually categorized as:
(Auto) Matched: The downloaded transaction corresponds to one you've entered into this account register in QuickBooks.
(Need Your Review) Unmatched: The downloaded transactions don't match any transaction in this account in QuickBooks.
To add transactions using renaming rules: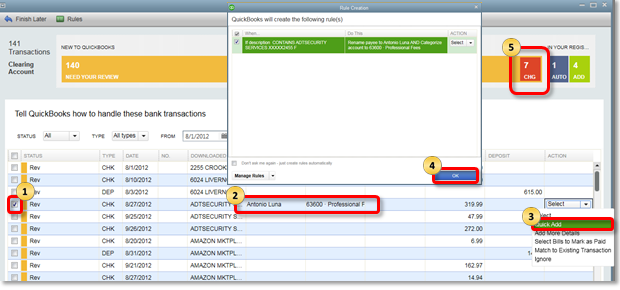 Mark the box to select a transaction under Need Your Review.
Assign the appropriate payee and account.
From the Action drop-down, choose Quick Add.
In the Rule Creation window that pops up, click OK.
The transaction will be marked Changed by Rules.
To add them to your register, select the CHK category then from the Batch Actions drop-down, select Add/Approve.
Note: This is only applicable if Create rules automatically and Always ask before creating a rule under your Preferences are checked. From the Edit menu, select Preferences > Checking > Company Preferences > in the Bank Feeds section, mark both options.
Common issues and unexpected results
Transactions were renamed with the incorrect payee
This issue occurs when downloaded transactions have generic names or description like "Check," "Payment," or "Online transfers." QuickBooks creates rules as you enter or add the transactions then applies them to the remaining unmatched transactions.
How to avoid having transactions renamed with an incorrect payee?
Unlike Quicken, QuickBooks doesn't have the reverse renaming rule functionality. However, you have two options to prevent having transactions with incorrect payees (or accounts).
Option 1: Choose to manually create renaming rules
This option prevents QuickBooks from automatically creating renaming rules if you are in Express Mode.
From the Edit menu, go to Preferences.
In the left pane, choose Checking then select Company Preferences tab.
In Bank Feeds section, uncheck the following boxes:

Create rules automatically: QuickBooks will not automatically create a renaming rule each time you add a transaction.
Always ask before creating a rule: QuickBooks will prompt you to check the renaming rule before it is created.
Note: Since QuickBooks will no longer create any rule as you add transactions to your register, you need to manually create renaming rules. Also, you need to edit/delete any incorrectly created rules to avoid issues when you download transactions in the future.
Option 2: Switch to the Classic (Register) Mode
Learn how to switch between banking modes in QuickBooks Desktop.
How to correct transactions that were already renamed and added with the incorrect payee?
Option 1: Manually correct each transaction
Access the Bank Register.
Look for the transaction and update it with the correct payee or account.
Save your changes.
Option 2: Restore a backup
If you have created a backup copy of your company file before entering/adding the downloaded transactions, you can restore a backup company file and start over.
Renaming rules are not created for deposit transactions
Currently, renaming rules will not apply to funds transfer and deposit transactions. In order to automatically match deposits, you need to switch to Classic (Register) mode and use payee aliasing function.
To know more about payee aliasing:
To open Help window, press F1 on your keyboard.
In Help search field, type payee aliasing.
Select each of the provided links to support articles about payee aliasing.
Error: Unhandled exception when editing a renaming rule in online banking
When editing a renaming rule, you receive the error: Unhandled exception has occurred in a component in your application. If you click Continue, the application will ignore this error and attempt to continue. There is no row at position X.
This error appears because your Microsoft.NET Framework 3.5 may either be damaged or not installed on your computer. Learn how to repair or reinstall Microsoft .NET Framework.
Error: GetQBAccountSpecialType when using Batch Action
Error: GetQBAccountSpecialType, An unknown QuickBooks account was used usually happens because of damaged renaming rules.
To resolve the issue, you need to delete and recreate all Bank Feeds rules.
From Banking Menu, select Bank Feeds > Bank Feeds Center.
Select Rules.
Mark the checkmark box on the left side of Rule Name to select all existing rules.
Select Manage Rules and choose Delete Selected.
Select Yes to confirm.
Try to use batch action. If you no longer receive the error, recreate your renaming rules.
LVL_SEVERE_ERROR--XML parsing error when loading Online Banking rules
When attempting to bring up the rules window, it immediately generates an exception error and never displays the rules form. This error is caused by the ampersand (&) in the list item of either the Vendors or Other Names list.
To resolve the error:
Open the Vendor Center.
In the Search field, enter the ampersand (&) character and click the Search button.
Edit the name to remove the ampersand (&) and replace it with "and".
Repeat this process with the Other Names list.