Perform the troubleshooting steps in this article if you are using a workstation to open a company file saved over the network and you get an Unrecoverable error. This could happen if the QBCF monitor service is running on a workstation that's not hosting the company file.
Important!

Ensure your QuickBooks Desktop is up to date before following the steps below.
If you are running QuickBooks on a multi user environment and you have a dedicated server or machine for storage of your company file, make sure hosting is turned on in your server or main computer.
To prevent this issue form happening again, ensure that hosting is turned off in all workstations except the server.
Solution 1: Run the Quick Fix my Program from the QuickBooks Tools Hub.
Step 1: Download and install the QuickBooks Tools Hub
The QuickBooks Tool Hub helps fix common errors. You'll need to close QuickBooks to use the tool hub. For the best experience, we recommend you use Tool Hub on Windows 10, 64-bit.
Close QuickBooks.
Download the most recent version (1.6.0.3) of the QuickBooks Tool Hub. Save the file somewhere you can easily find it (like your Downloads folder or your Windows desktop). Note: If you've installed Tool Hub before, you can find out which version you have. Select the Home tab. The version will be on the bottom.
Open the file you downloaded (QuickBooksToolHub.exe).
Follow the on-screen steps to install and agree to the terms and conditions.
When the install finishes, double-click the icon on your Windows desktop to open the tool hub.

Note: If you can't find the icon, do a search in Windows for QuickBooks Tool Hub and select the program.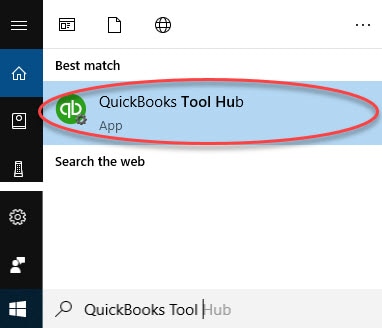 Step 2: Run Quick Fix my Program
In the QuickBooks Tools Hub, select Program Problems
Select Quick Fix my Program.
Start QuickBooks Desktop and open your data file.
Step 3: Prevent QBCF Monitor service from re-starting on the workstation.
On your keyboard, press Windows+R to open the Run window.
Type in services.msc and select OK.
Scroll down on the list and double-select QBCFMonitorService to open the Properties.
Choose Disabled as Startup type.
Select Apply and OK.
Solution 2: Repair the QuickBooks Desktop Installation
See Repair QuickBooks for detailed instructions.