Through iCloud Document Sharing, you can work on your QuickBooks Desktop for Mac from multiple devices connected to iCloud.
iCloud Document Sharing is an existing functionality in macOS. It works by syncing a folder to iCloud Drive. Then a user with a link to the folder or file in iCloud can access, download and/or collaboratively work on those shared files. Visit the Apple support site for more on how to set up and sync to iCloud.

iCloud sharing and QuickBooks: Do's and Don'ts
It's important to understand how and how not to use iCloud Document Sharing with QuickBooks Desktop for Mac.
| Recommended iCloud use | Not recommended iCloud use |
| --- | --- |
| Move a QuickBooks Company file between two Macs to use the company file locally | Collaboratively have more than one user work in the QuickBooks company file at one time |
| Share other business files associated with a QuickBooks company file (e.g. documents, pdf reports, photos, etc.) | Don't view this a remote access setup for QuickBooks Mac |
| Continue to make regular backups for a company file that is being moved back and forth via iCloud | Neglect to make regular backups thinking iCloud sharing provides those backups |
Sharing warning: The Company File Has Been Modified By Another User
You will see this message any time iCloud (or other file sharing services like DropBox, Box, Google Drive) detects a file version conflict. It's important to understand what your options are when you see this warning and how they affect your file.
This can occur if:
Two users are simultaneously working on QuickBooks.
You are opening a company file that was changed by another user before the iCloud sync is completed.
QuickBooks is open in another machine but the other user is not active.
Learn more about your options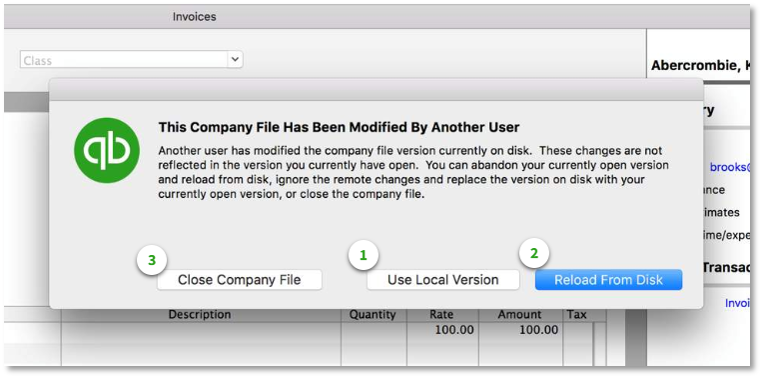 Use Local Version - This option replaces the company file in iCloud with the company file you have on disk. In this case the changes on the iCloud company file version are lost.
Reload From Disk - This option replaces the company file on your local Mac with the other user's company file from iCloud. In this case the changes on your local company file version are lost.
Close Company File - This closes the company file with no changes made.