Learn how to create custom Payment Links for your customers.
Payment links is a QuickBooks Desktop payment tool that you use to collect payments. Share a link with your customer as a way to get paid quickly. And if you need advanced payments before you begin work, or even before you invoice, payment links make it extremely convenient.
You need a QuickBooks Payments account to process customer payments. If you don't already have a payments account, you can apply for one.
You can also use payment links in QuickBooks Online.
The payments made through these links show as credits for the customer.
Here's how you create payment links:
From the Customers menu, select Payment Links.
You can also use the payment links icon on the home screen.
Enter the following:

Amount
Description
Select a customer or add a new customer
Customer email
Select the payment method, such as credit card or ACH


When you're ready, select Send Payment Link.

QuickBooks sends an email containing the requested payment details and a Pay button. As a merchant, you'll receive a confirmation email along with the copy of the payment link to your registered email.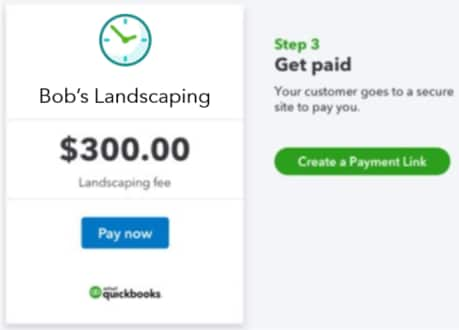 Additionally, choose to copy the auto-generated link and share it with your customer. You can conveniently share it via text message or whatever messaging channel you prefer.
When your customer selects the link, they're taken to the payment portal. Here, they enter their payment details as if they were paying an invoice. Your customer won't be able to change the amount or pay partially. Once your customer submits payment, a receipt automatically generates.
Payments made come back to QuickBooks Desktop as credits for that customer. You can apply them to invoices when you're ready.
Payment links are only for a single use with a single customer. Generate a new payment link per customer payment. Also, be aware that payment links can't follow-up on a payment for an invoice previously sent.