While you are working in QuickBooks Desktop, you may see this message: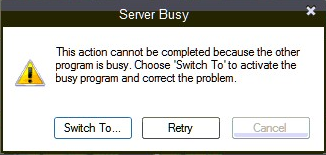 A number of issues can cause this error message. Among them are:
Another program that QuickBooks Desktop is trying to work with is waiting for a response from you.
Windows Update is running in the background.
QuickBooks Desktop or some of its components did not completely shut down last time you closed it.
Multiple computers are setup to host the QuickBooks Desktop company file.
A firewall or other security software is blocking QuickBooks Desktop updates.
A conflict occurs between the QuickBooks update manager and another program on the computer.
A Conflict with Intuit ProSeries (US) or Profile (Canada) may cause a conflict.
Your network does not have sufficient resources to run QuickBooks Desktop.
To Resolve Server Busy error:
Check your network resources. Close then reopen QuickBooks. If you still receive the error message, proceed with the following steps.
Close open programs
If you must have a program open, make sure that there are no dialog boxes open in that program.For example, Microsoft Word may have a dialog box open that is asking you to save a document. This is one reason the Server Busy message can appear.
The following programs have caused this error: Norton, Google Desktop, Windows Defender, Vista Security, Pivot Software Control.
If you try using Selective Startup in Windows, you should stop IntuitFCS.
Webroot Spy Sweeper can cause this message. Temporarily disable Spy Sweeper, or run it in Gamer mode while using QuickBooks Desktop. For more information, refer them to the Webroot Spy Sweeper User Guide .
Check if Windows is updating
On your Windows taskbar system tray, see if Windows is installing an update. If it is or if it needs to be installed, let it finish. Restart your computer as directed by Windows. If no update is running, proceed with the next step.
Close all QuickBooks Desktop Components
Close your data file and exit QuickBooks Desktop.
Right-click the Windows task bar and select Task Manager.
Click the Processes tab.
End any of the following QB-related processes if they are listed. (Select each process and then click End Process.)

axlbridge.exe
qbdagent.exe
qbpsevnt12r.exe
mrtmngr.exe
qbpsevnt17r.exe
qbpsevnt11r.exe
QBW32.exe
qbpsevnt16r.exe
qbpsevnt10r.exe
QBHelp.exe
qbpsevnt15r.exe
qbpsevnt09r.exe
qbdagent2001.exe
qbpsevnt14r.exe
qbpsevnt08r.exe
qbdagent2002.exe
qbpsevnt13r.exe
qbupdate.exe
support.exe

Start QuickBooks Desktop and open your data file.
Remove QuickBooks Update Agent displaying the "Server busy" message
Click the Windows Start button and choose All Programs > Startup.
Right-click QuickBooks Update Agent, choose Delete, and then click Delete Shortcut.
Turn off shared updates in QuickBooks Desktop:

Go to the Help menu and click Update QuickBooks.
Click the Options tab.
For the Share Download option, select No.
Click Close.
If Intuit ProSeries is installed on the computer
Check the Windows Task Manager for qbpsevntXXr.exe (wherein XX is the year of the Intuit ProSeries software).Note the year of the executable (the XX), in the file name.
Open Windows Explorer.
Locate then open Intuit ProSeries folder for that year. This is usually C:\ProWinXX (the XX being the year of the Intuit ProSeries).
Open the 32bit folder.
Locate the qbpsevntXXr.exe, then right-click and select Rename.
Add ".old" to the end of the file name.Example: qbpsevnt18r.exe.old.
Close Windows Explorer.
If the above steps did not resolve your issue, try the following actions with the guidance of an IT professional.
Boot Windows to SafeMode with Networking, starting QuickBooks Desktop and then restarting Windows to Normal Mode will often resolve the issue.
Attempt to run QuickBooks Desktop and perform the action causing the error in Windows Selective Startup and then Windows Safe Mode.
If you are running QuickBooks Desktop on a network, restart your computer, and then reconnect your computer to all mapped drives.
Find out if backup or mirroring software is running on the server or network. If so, it may be actively scanning the hard drive, blocking access to QuickBooks Desktop files and causing this error. Test this by temporarily disabling the software to see if the QuickBooks Desktop issue recurs. If it doesn't, there is a conflict with the scanning software that must be resolved with help from your system or network administrator (if you have one), the vendor from whom they purchased the software or hardware, the manufacturer's or software developer's Web site, or a local computer consultant.
If there is security software installed on the server machine, it may be scanning new and updated files in the background and therefore locking up the template file. To prevent this, either disable the security software or add .DOC files to the exception list. Please see your security software's documentation for steps on how to do this.