Learn how to set up and run a Time Cost report to get your project labor costs in real-time.
If you use QuickBooks Online Payroll, QuickBooks uses your most recent payroll to update your hourly time costs. If you're a few days away from running payroll and want to get your labor costs now, use your Time Cost report.
Follow the steps below after you set up projects with payroll for the first time. You can do this any time between payroll periods to get your hourly cost rates in real-time.
Step 1: Calculate your labor costs
Select the Projects menu.
Select Hourly cost rate. This opens the hourly cost rate window.
Select + Add Employee (if you have not already added an employee)
Select Add next to an employee's name.
Select the calculator icon to pull up the cost calculator.
Add your employee's hourly wage and employer taxes.


For hourly employees
If your employee is hourly, QuickBooks adds their hourly wage and employer taxes (including Social Security and Medicare) for you.

For salaried employees
If your employee is salaried, you'll need to convert their annual pay and employer taxes to an hourly rate. A simple way to do this is to divide their annual wage by the number of weeks worked for the year. Then divide by the average hours worked per week.

You can also enter data for their additional employer taxes, workers' comp, and overhead to get even more accurate hourly cost rate info.
When you're done, select Add to save the cost rate.
Repeat these steps for each employee.
Step 2: Add project timesheets
Now you have the hourly cost rates for each employee. If you haven't already, add their project hours.
Select + New.
Select Weekly Timesheet.
Select your worker and the week you're entering time for from the drop-down menus.
Select the project from the Choose a customer or project drop-down menu. This will tag the timesheet to the project.
Fill out the timesheet. You can choose a different pay item from regular pay as needed.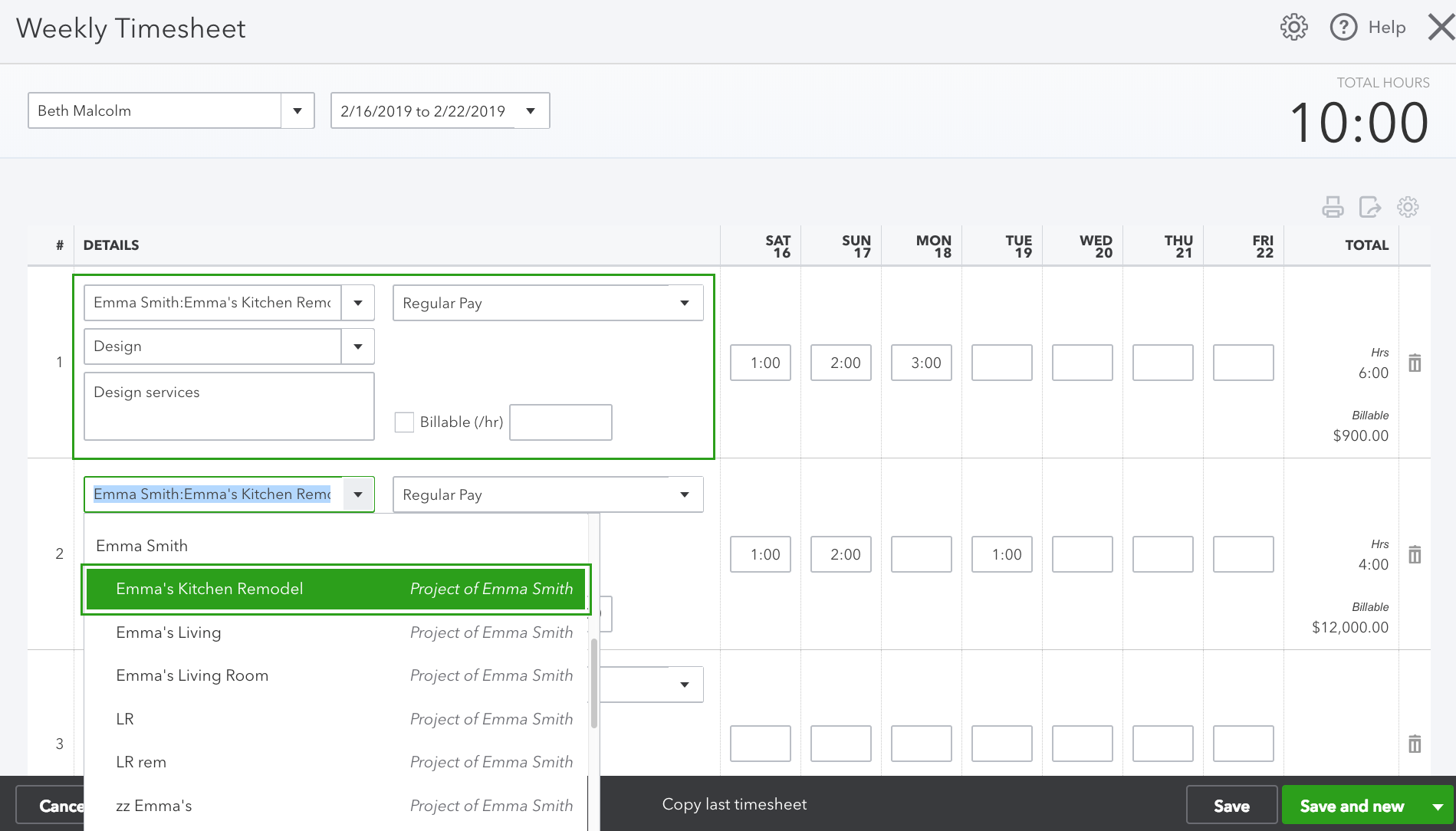 Step 3: Run a Time Cost report
Select the Projects menu.
Open your project.
Go to the Project Reports tab.
Run a Time Cost by Employee or Vendor report.
Review the report totals to get your time costs.
Go to the Overview tab.
Subtract your time costs from your Time Cost report from the income total on the Overview tab. The difference is your profit.
The cost totals on the Overview tab will be slightly different from what's on your Time Cost report.
The Overview tab calculates employee wages and employer taxes based on timesheets. It doesn't include bonuses, commissions, workers' compensation, or overhead expenses.
The Time Cost report includes wages, employer taxes, workers' compensation, and overhead if you entered them in Step 1.