QuickBooks Online lets you invite contractors to securely enter their tax info — helping you be prepared to file 1099s once it's tax season.
Collect W-9s from your contractors
Collecting W-9s through QuickBooks is quick and hassle-free. You can invite your contractor to complete their own profile and submit a signed W-9 through QuickBooks so you're compliant and prepared at tax time. This feature also encrypts your contractor's sensitive tax info so your contractor can feel comfortable sharing it.
How to add your contractor using self-setup
To invite a contractor, select Workers or Payroll menu > Contractors > Add a contractor. Enter the contractor's name and email in the fields provided, then select Add contractor. We'll send your contractor an email in real time. The contractor's profile will be saved in both the Contractors tab and the Vendors tab.
Here's how it works
We'll send your contractor an email inviting them to fill out and submit their W-9 info. They'll either log in with an existing Intuit account if they have one or create a free account to securely share their tax info with you. The whole process should only take a few minutes.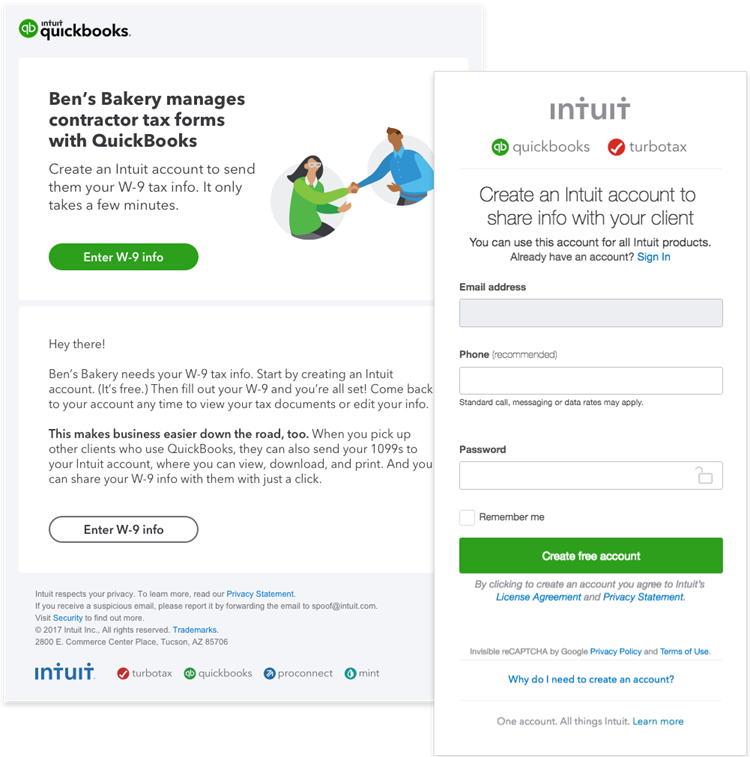 Next, they'll enter their W-9 info and digitally sign the form. Once completed, their info is saved in their account.
What you'll see
When your contractor submits their W-9, QuickBooks adds their info and a PDF of the signed W-9 to their profile in your account. If the contractor updates their info at any time, QuickBooks will automatically update it in your account.
Come tax time, if you e-file your contractor's 1099 form through QuickBooks, your contractor will have access to it in their account.