If your income and expenses from QBSE did not show up in TurboTax Self-Employed after you initiated the export or import, here are some things to look for to resolve it:
First thing is to check if you are currently seeing "TurboTax Self-Employed" on the left-hand panel of your TurboTax account (see image below). If you're seeing anything other than TurboTax Self-Employed, you will need to upgrade your account to TurboTax Self-Employed and then the data will surface.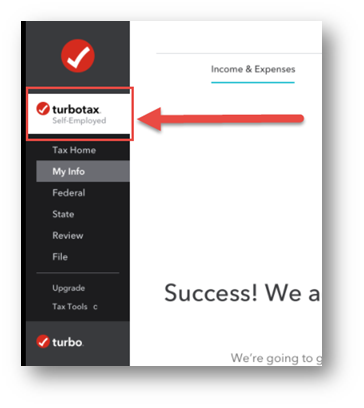 To upgrade, simply click the "upgrade" button located in the same left-hand panel. Agree to the upgrade and know that the charges will not apply when the data imports. If you are prompted to pay for the TurboTax Self-Employed fee and for one state return, please contact either QuickBooks Self-Employed or TurboTax from the Help tab in either of your accounts and inform them that you're a QBSE bundled user and need a service code to bypass the filing fees. We will confirm your bundled subscription and will generate a code for this one-time filing.
If you see "TurboTax Self-Employed", do you see any data showing up in the Schedule C? To locate the Schedule C, simply type in the search bar "jump to Schedule C".

If you see a message stating there's a bit more information we need to gather about your income, know that this is normal and a requirement to complete the Schedule C portion of your taxes.
If you don't see this message, the data from the QBSE cannot surface when there is manually entered data in the Schedule C. Delete any manually entered data, and then contact QuickBooks Self-Employed support and request the option to re-export. Once support re-enables the export, please try again.