Set up and run your new sales order solution — easily and quickly.
Easily link QuickBooks with a mobile inventory scanner to speed up the picking process and help reduce data entry errors.
Use the search function to quickly find and prioritize sales orders.
Stay updated on order fulfillment with real-time status.
Easily split the order fulfillment across inventory locations by creating multiple picklists.
Use notes in picklists for better communication.
Optimize the process with our Enhanced Pick, Pack, and Ship feature.
3 ways it benefits your business
Efficient and automatic picking
Speed up the inventory picking process and help reduce data entry errors with a mobile inventory scanner. Send sales orders to workers on the floor, scan inventory within a warehouse, and transfer the data wirelessly. Use your mobile inventory scanner for receiving too.
Enhanced tracking
Track sales orders in real time with defined status messages such as Picked, Pick in Progress and Partially Picked. Then create picklists by assigning it to a picker at the site. You can also switch to the mobile inventory app to auto-update packing status directly from the warehouse.
Easier order fulfillment
Delight your customers by prioritizing the most urgent sales orders and empower employees to fulfill orders. View critical information like ship date, inventory availability and value of order.
How it works
How to pick
Select the orders you want to fulfill on the Sales Order Fulfillment worksheet. Review the opened sales orders for their status, and then create picklists by assigning it to a picker at the site. The picker receives the picklist on the mobile inventory scanner or Android device, which can then be used to scan or update the number of items picked. Keep track with real-time status messages in QuickBooks, and easily print packing slips and view or print picklists on demand.
How to pack
Send picked or partially picked sales orders for packing. Select a packer, send to a device, print the packing list, or monitor real-time progress from QuickBooks. You can also switch to the mobile inventory app to auto-update packing status directly from the warehouse.
Create shipping labels
You can now print shipping labels using the QuickBooks Shipping Manager. Select a carrier of your choice (Fedex, UPS, USPS) for a given sales order on the dashboard and print the required shipping labels. You can even reference the tracking number on the sales order form and dashboard.
Update sales order status to shipped
Once the picking and packing is complete, you can update your sales order to reflect its exact status.
3 steps to get started
Set up scanner or mobile device with QuickBooks
See how to download the QuickBooks Desktop Warehouse app on your scanner or mobile device and link it with your QuickBooks company file.
Add warehouse users
Add warehouse users in the vendor list. Warehouse users' names will only show up in the device once a task has been assigned to them.
Need help getting started?
Enterprise support
Get answers from our U.S.-based QuickBooks experts1, from installing your new Enterprise software to tailoring it to best suit your business needs. We're here to help.

Enterprise support
Get all your questions answered by phone
(866) 340-7237
6 AM- 6:00 PM (PT) Monday - Friday
9 AM - 3 PM (PT) Saturday
Local Help
Intuit QuickBooks ProAdvisor
Certified QuickBooks ProAdvisors have expertise in accounting and bookkeeping services for small-to-medium sized businesses. They are typically CPAs, accountants, and small business advisors or consultants who have been tested and certified by Intuit to help businesses learn and use QuickBooks and other Intuit products.
Find a QuickBooks ProAdvisor

Supported inventory scanners
To use the barcode scanning solution, you'll need the QuickBooks Desktop Warehouse App and a compatible portable scanner, or an Android phone - available online or through other retailers. For more information about the app and scanners, see our help page.

FAQs
Q.
I don't have Advanced Inventory, where do I start?
A.
If you are a QuickBooks Desktop Enterprise user, you can purchase or subscribe to Advanced Inventory.1 Advanced Inventory is included in the Platinum version of QuickBooks Desktop Enterprise.


You can turn on Advanced Inventory by following these steps.
Q.
I don't plan to use an inventory scanner. What are my options?
A.
Mobile inventory scanners are great for business owners who want to increase productivity and efficiency. If you don't plan to use one, we recommend the following:

A.
1) Use an Android mobile device: The QuickBooks Enterprise Warehouse app is supported on mobile devices with Android 4.4 or higher. You will need to enter the UPC and an inventory serial number instead of scanning barcodes when using an Android mobile device.

2) Use the Print Picklist to track order fulfillment status: You can review inventory availability across sites and create and print corresponding picklists. Once printed and picked, you can update the completed picklists to get the exact inventory status of customer sales orders.

Watch this video to see how the Print Picklist works.
Q.
Where can I get the QuickBooks Desktop Warehouse app for my device?
A.
Click here to get more information on how to download and install the app on your device.

If you have access to Google Play on your device, you can also download the Android app directly. Just search for "QuickBooks Desktop Warehouse".
Q.
I don't have barcodes for my inventory items. What can I do?
A.
If you don't have barcodes for your inventory but you're willing to set them up, you can easily do that in Advanced Inventory in the Platinum version.
A.
Advanced Inventory's barcode feature incorporates barcodes and barcode scanning seamlessly into your company file. Turning on the barcode scanning preference in Advanced Inventory and using the Barcode Wizard will let you move your existing barcodes into QuickBooks, or have QuickBooks create barcodes for items in your item list. You can either use your vendor barcodes or print your own.
Learn more about barcode scanning

Q.
I don't create sales orders in QuickBooks. Do I need them for order fulfillment?
A.
Yes. Sales orders capture the items ordered by your customers.
A.
With enhanced order fulfillment with the mobile inventory scanner, you can now track your sales order status in real time as they are sent for picking. With our defined sales order status, you can stay on top of your customer orders. Sales orders can be easily converted into invoices with a click of a button.

Q.
I am asked to login when using the barcode scanning solution. What credential should I use?
A.
You should use your Intuit account credentials if you see the screen below.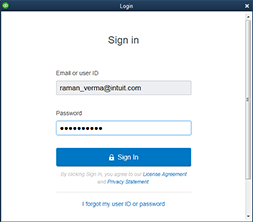 Q.
I already have Advanced Inventory. Do I need to pay more for the barcode scanning solution?
A.
No. If you've purchased the Platinum subscription with Advanced Inventory, you don't need to pay extra.
Q.
My question is not listed here. Who should I contact?
A.
Click here to contact our customer care team. We're happy to help!
QuickBooks Desktop Enterprise with an active QuickBooks Desktop Enterprise subscription and and Internet connection is required.