Pro Tax has never been easier to try. With Web Access Code (WAC) filing you can now use Pro Tax to file your own tax returns. Go ahead and give it a spin!
What is a Web Access Code?
A WAC is a personalized code that can be used to file T2 corporate tax returns in Pro Tax. You can use your WAC in-lieu of an EFILE account, which is great for firms that are trying out Pro Tax or looking to file a return for their own firm.
Through Pro Tax, we will pull in your Web Access Code from the CRA and attach it to the return.
Using a Web Access Code for Filing
In your QBOA file, navigate to the Pro Tax menu.
Select T2.
Start or open a T2 filing.
Select the option Web Access Code under the Filing section: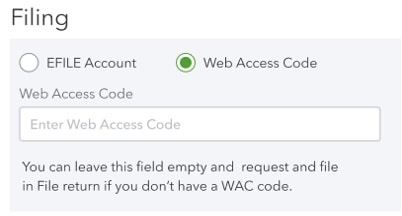 5. Enter your WAC in the Web Access Code field. If you don't have a Web Access Code, leave this field blank and we will automatically generate your code from the CRA and pull it into your T2 return.
6. Click File return.
7. Choose WAC Request and file. A request to confirm information displays on the pop-up screen.
8. Update the incorporation date (if applicable).
9. Click Request and file. A confirmation message displays at the top of the page.
Note: You can check the status of your filing from the T2 tab in Pro Tax.