Learn what to do if QuickBooks Online can't find a match while you're reviewing downloaded bank and credit card transactions.
When you connect your bank and credit card accounts to QuickBooks, it downloads your recent bank and credit card transactions. Then it automatically matches them with any records you've created in QuickBooks.
If QuickBooks can't find a match, or shows the wrong match, while you're in the For Review tab, it's no problem. Here's how to find the right match, or create a new record if there isn't a match.
If you already entered a transaction that should match, but QuickBooks can't find it, don't create a new transaction. Find the one you already created so you don't get a duplicate record. Here's how:
Review the match
Go to the Banking menu, and then select the For Review tab.
Select the bank transaction to see more info about it.
Review the info under "Record found." This section shows records you already entered into QuickBooks that it thinks are a match for the downloaded transaction.
If it's not the right match, select Find other records. This opens the Match transactions window.
Select the box to uncheck the recommended match.
Find the right match
You can now search for the right transaction in the Match transactions window.
In the From and To fields, enter dates that are a few days before and after the date of the transaction you're looking for.
In the Search box, enter the amount, the customer you did business with, or reference number for the transaction in QuickBooks.
Any transactions that meet your search will appear on the list.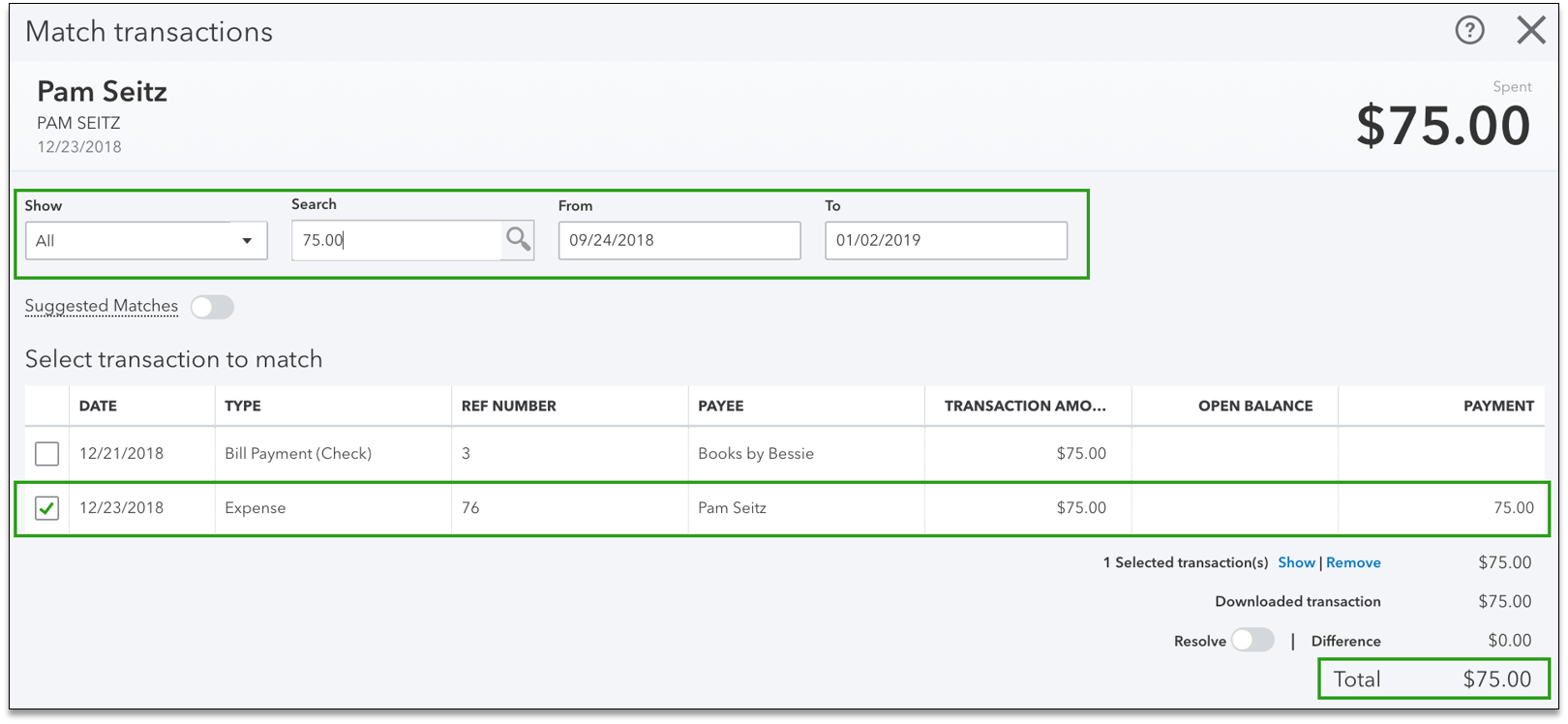 When you find the match
Select the box for the matching transaction or transactions.
Make sure the total matches the transaction downloaded from your bank.
Select Save.
If the match amount is slightly off
If the difference between a sales receipt you already entered and a downloaded transaction is more than 5%, QuickBooks won't show a match. This usually happens when banks add processing fees that weren't on the sales receipt you created.
If you know you've found the matching transaction:
Go to the Sales menu.
Find the original sales receipt, and add a "processing fee" line item for the difference. This itemizes the record and shows the included fee.
If QuickBooks makes the wrong match
If QuickBooks tries to make a match, but you know you haven't entered a matching transaction, don't select Match. Instead, start a new record by choosing Add.
Select the transaction to expand the view.
Change the selection from Match to Add. You can also do this if QuickBooks incorrectly selects "Record transfer."

Select the Payee and Category.
Select Add.
Go to the Reviewed tab.
Find and open the transaction.
Add any other details you need.