Learn how to schedule payments in Online Bill Pay in QuickBooks Online.
When you schedule a bill payment in QuickBooks Online Bill Pay, the timing of when your bill is paid depends on the amount of the payment, your transaction history, and is limited to banking business days. Here's how the timing for bill pay is affected by those factors.
Note: This is only applicable for Online Bill Pay powered by Bill.com and is not applicable for Online Bill pay powered by Melio. Not sure which one you have?
When you pay bills for the first time
The standard payment timing for both ePayments and mailed checks is four banking days. After you establish a transaction history, you may qualify for payments below $10,000 to be sent on accelerated payment timing.
Accelerated ePayment timing is two banking days. Once your payment timing has been accelerated, you'll also have access to Bill.com expedited payment options.
Schedule a bill
Here's what you need to know about paying a bill
Enter details on the bill and schedule a payment. (Schedule a payment by 6 PM PST, and we'll start working on it the next banking day).
We show you an expected arrival date for each payment.
Allow four banking days for the payment to be received by the vendor.
Check payments may take longer than four banking days to reach the vendor.
Banking days are Monday through Friday (excluding federal holidays).
The Pay Bills Online page will always show an "Arrives by" date for Bank Transfers. And "Est. arrival" date for paper check.

Note: Check arrival dates for non-expedited payments are always shown as estimates, since we cannot guarantee USPS delivery times.
What you need to know about holidays and limits
The earliest process date you can select is the next banking day. (You can't select the current date.) Weekends and holidays don't count. If the day you select is a federal holiday or weekend day, we will push the process date to the next available banking day.

Example: If you attempt to schedule a payment on Thanksgiving Day (Thursday), we will automatically make the process day Friday, which is not a federal holiday.

If a weekend or federal holiday falls within the regular processing time for a payment, the payment will be delayed. That delay will be reflected in the "Arrives By" date.
There is no daily limit on the amount you can pay a vendor. (However, your financial institution might have a limit.)
There is a per payment threshold that is activated for payments over $10,000, which will initiate a slower payment timing. This allows Bill.com to ensure the funds are available prior to sending the payment to the vendor.
Payment schedule examples
Here are examples of bank transfer and paper check payment schedules.
Accelerated payment timing
Bank transfer (accelerated payment timing)

Paper check (accelerated payment timing)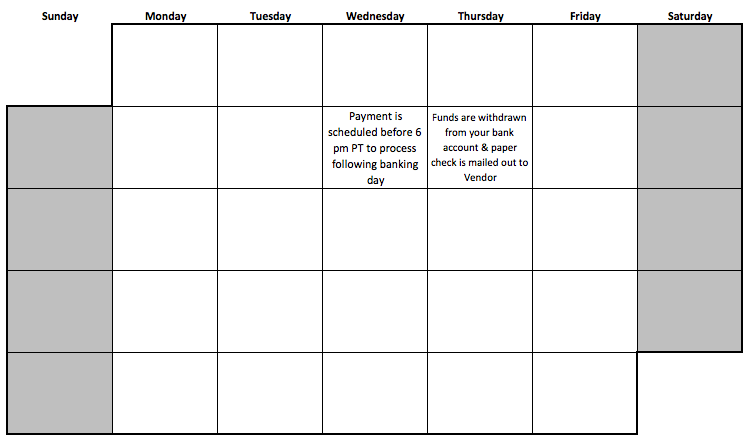 Standard payment timing
Bank transfer (standard payment timing)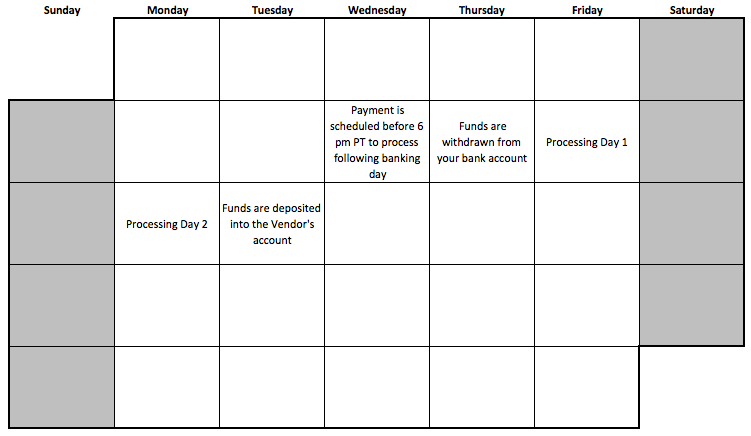 Paper check (standard payment timing)