Learn how to fix Error 80029c4a when opening QuickBooks Desktop.
If you see Error 80029c4a and can't open QuickBooks Desktop, we've got you covered.  This error should be resolved with the latest release of QuickBooks Desktop 2018, 2019, and 2020!
If you still get the error, even with an updated QuickBooks release,  start by checking your antivirus software. If that doesn't work, we'll walk you through how to reinstall QuickBooks Desktop.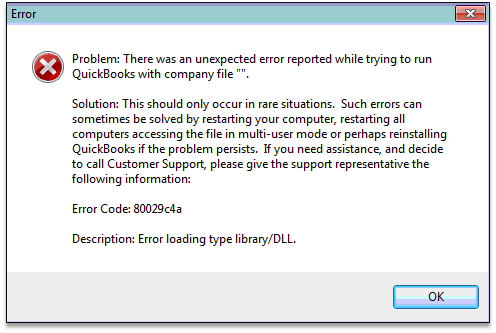 Step 1: Check your antivirus settings
Some antivirus programs accidentally block QuickBooks from loading essential files.
Check the area of your program that lists blocked files (sometimes called your "quarantine"). Refer to your antivirus program for how to set permissions, or use these links if you're a Norton or McAfee user.
If you see any of the programs listed below in your quarantine, give them permission to go through your firewall.
AutoBackupExe.exe
Dbmlsync.exe
DBManagerExe.exe
FileManagement.exe
FileMovementExe.exe
QuickBooksMessaging.exe
QBW32.exe
QBDBMgrN.exe
QBGDSPlugin.exe
QBServerUtilityMgr.exe
QBCFMonitorService.exe
QBLaunch.exe
QBUpdate.exe
IntuitSyncManager.exe
OnlineBackup.exe
| | |
| --- | --- |
| | Note: Most of these files are located in C:\Program Files\Intuit\QuickBooks (year). Files with (x86) in the location, such as C:\Program Files (x86)\Intuit\QuickBooks 20XX, are 64-bit versions. |
If you still see Error 80029c4a, move on to Step 2.
Step 2: Clean install QuickBooks Desktop
Do a clean install of QuickBooks Desktop. This will refresh the program files causing Error 80029c4a and won't affect your data.