Learn how QuickBooks Online automatically matches your QuickBooks Payments transactions for you, and how to manage automatic matching.
Instead of manually matching each transaction, QuickBooks can do this work for you by automatically matching bank deposits that correspond to QuickBooks Payments transactions. You can find and view details on automatically matched transactions in Transactions under the Categorized or Reviewed tab.
Automatic matching increases the accuracy of your books. We suggest leaving it on to save you time, and to help avoid mistakes that can become a hassle at tax season.
Note: Automatic matching may not be available in all accounts yet.
How automatic matching works
To watch more how-to videos, visit our video section.
Manage automatic matching
You can turn automatic matching off or on at any time. To do this:
Go to Transactions, then Bank transactions (Take me there).
Select the Categorized or Reviewed tab.
Select Settings ⚙ at the top of the transaction list.
Turn the Automatic matching switch On or Off.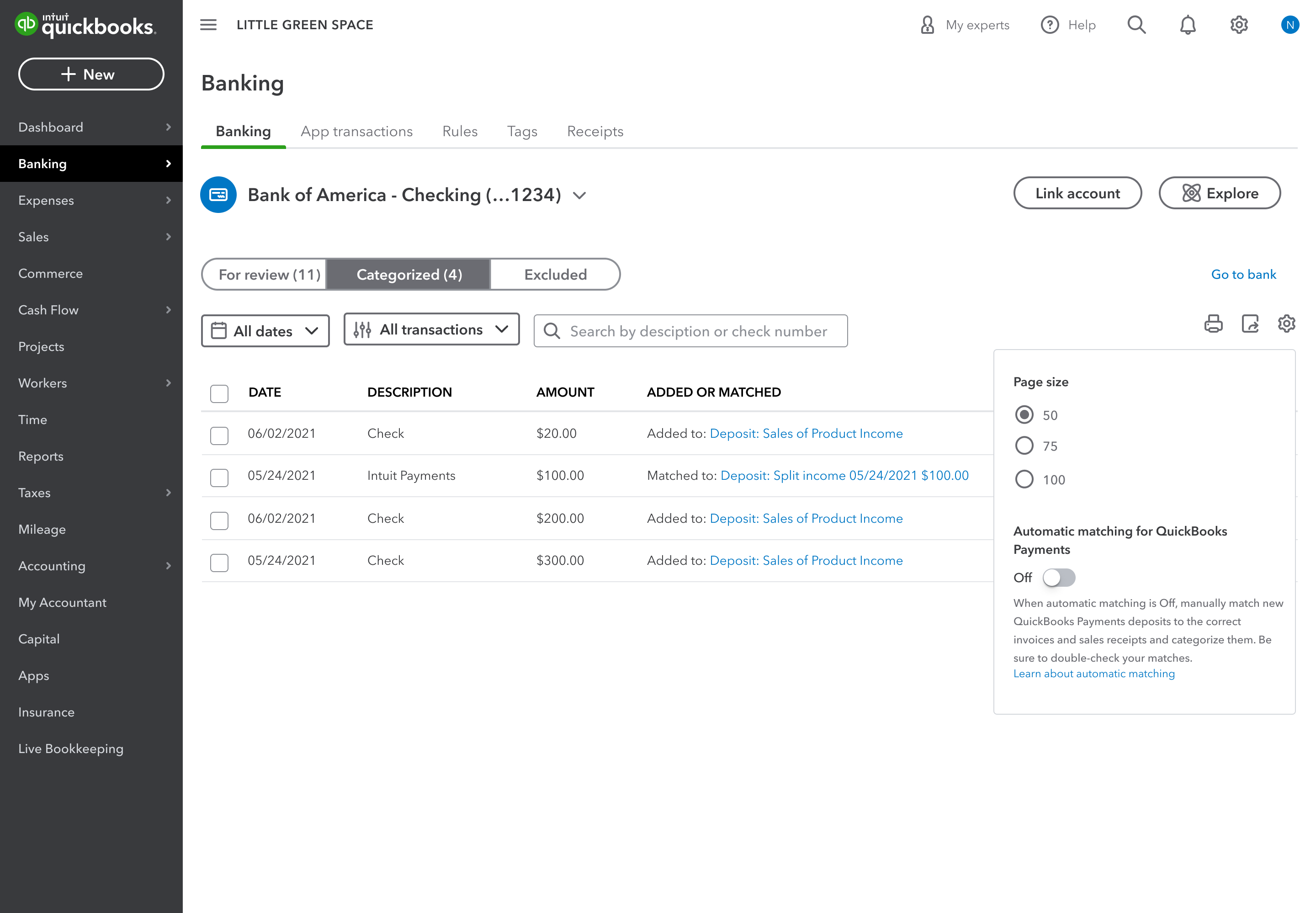 The Automatic matching setting will apply to all transactions you create through QuickBooks products like QuickBooks Payments and QuickBooks Bill Pay. When you change this setting, it will only affect future transactions.
When automatic matching is off, you'll need to manually match new deposits to the correct invoices. Be sure to double-check your matches.
What happens when QuickBooks isn't able to automatically match
QuickBooks may not automatically match all your transactions. For example, your bank may not provide a unique ID for each deposit. In such cases, QuickBooks won't automatically match and will leave it for you to manually match the bank transactions.
QuickBooks Payments: QuickBooks Payments account subject to eligibility criteria, credit and application approval. Subscription to QuickBooks Online is required. Money movement services are provided by Intuit Payments Inc., licensed as a Money Transmitter by the New York State Department of Financial Services.
Subscription to QuickBooks Online is required.
QuickBooks Bill Pay is an additional product enablement to an existing QuickBooks Payments account that may require a separate subscription.
For more information about Intuit Payments' money transmission licenses, please visit https://www.intuit.com/legal/licenses/payment-licenses/.