Learn how to  manage payroll subscriptions for multiple companies.
If you're an accountant or bookkeeper, you'll have the option to add your clients' company to your payroll subscription. These clients' companies should only be added if you're exclusively working on their payroll files. Those files should always have those files under your control.
We explain the different messages you'll see when you're in the process of adding different payroll subscriptions for multiple companies.
Add this file to your subscription?
A window appears with a message for accountants and bookkeepers when choosing the following options:
Learn About Payroll Options under Employees menu
Order Payroll under Employees menu
Enter Payroll Service Key under Payroll option
The message advises that you should only add files to your payroll subscription that you will use within your company.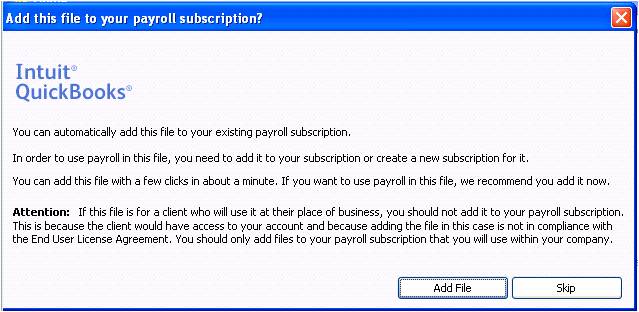 Intuit QuickBooks payroll - Identify subscription
When you choose the option Add to my Existing Subscription under Employees menu, a message appears. It warns you to add a company to your subscription only if the file is in your control and used strictly by your business. Because doing so will enable the file to view or change your Payroll Service account.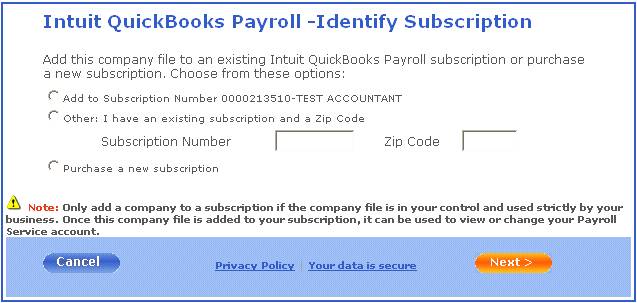 Add this file to your payroll subscription?
The message below suggests that you add the company file to your existing subscription for the following scenarios:
If a file being used has not been added to a subscription. And the computer being used has a file already added to an active subscription.
If you enter a service key for a subscription that has already been used on the same computer