Learn how to import bank statements to help you reconcile an account.
When you reconcile an account in QuickBooks, you compare what you recorded with your bank statement to make sure everything matches.
Some banks now let you view your bank statements right from QuickBooks. This is especially useful if you're reconciling accounts for multiple clients, or reconciling several statements for the same account.
Here's how to view your bank statements in QuickBooks.
Step 1: Connect your bank account
If you haven't already, connect your bank account to online banking. After you connect a bank that supports View Bank Statements, select Enroll from the bank reconcile page to sign up.
We're working with banks to make this feature more widely available. Here's the list of supported banks.
Step 2: Get your bank statements
In QuickBooks, go to Settings ⚙, then select Reconcile (Take me there).
Tip: You can also select Reconcile from the Transactions tab in the MENU ▼.
From the Account drop-down, select the account you want to reconcile.
If you see the View statements option, you can get your bank statements directly from your bank for this account. Select View statements to see your available statements.
When you're ready to start, select Start reconciling or Resume reconciling.
If you don't see this option, your bank may not support this feature yet. We're working to add more banks soon.
Manually attach a bank statement to a reconciliation
You can also attach bank statements manually when you pause or finish a reconciliation.
Follow the steps to reconcile the account.
When you finish, select Finish now.
Select Attach statement to add the statement.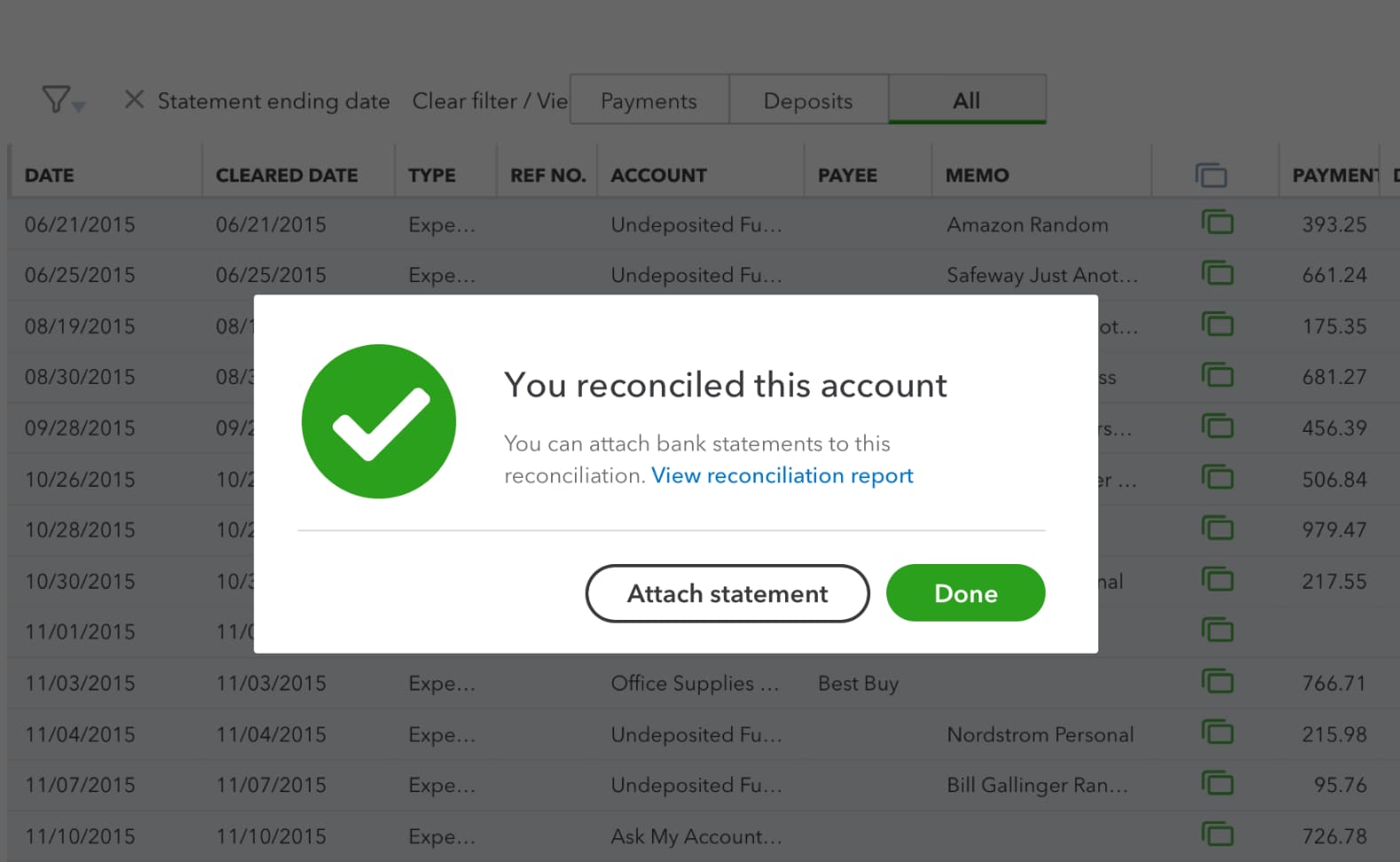 This saves your bank statement with the reconciliation so you have it for your records.
Step 3: Reconcile the account
Now that you have your bank statement, follow the steps to reconcile the account.
Next steps: View bank statements in QuickBooks
Review your reconciled bank statements any time:
Go to Bookkeeping and select Reconcile (Take me there).
Select History by account.
Look for the statement.
Select Attachments in the Statements column to open the statement.