The State of New York requires employers to pay for the New York Family Leave Insurance. The calculation is based on the gross wages.
The payment to the insurance companies will be the employer's responsibility. Intuit does not debit or pay this amount.
Any over collected payroll deductions would be reimbursed to the employee from the employer.
If you have administrative questions, please contact the agency at 844-337-6303, or refer to the FAQ section below.
Benefit payments reported on "Form 1099" are issued from the State Fund or the private insurance carrier that paid the employees.
Intuit Online Payroll and QuickBooks Online Payroll
You can set up this deduction in your Online Payroll.
QuickBooks Desktop Payroll
You can set up the New York Paid Family Leave Insurance payroll deduction as long as you have downloaded tax table (21714) or later. The new payroll item is listed under the Taxes "Other" tab.
Important: If you have already set up this payroll deduction and need to verify or correct your unemployment tax rate, follow these steps.
Assisted Payroll customers: we will correct the rate for you, if necessary.
Go to the Payroll Item List.
Double-click on the NY- Unemployment Company item
Click Next through the item until you reach the company tax rates screen, change the rates back to the correct amount.
You will get a payroll tax change-warning box, click Continue on the warning.
Click Next though the rest of the boxes until finished.
Continue to run payroll as normal.
Create or change an employee to working in NY for the first time
When creating or changing an employee who will be working in NY for the first time, once the state of NY is chosen as the work state, the following screen will pop and the item will be added automatically.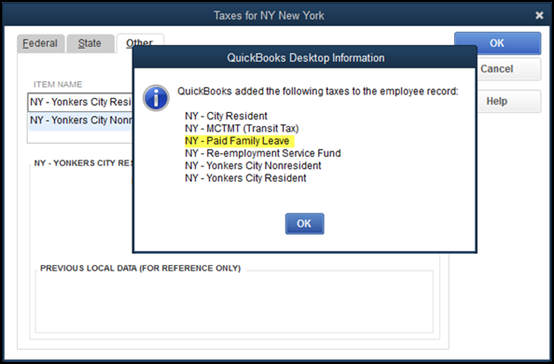 NOTE: The deductions from the employees will appear in Box 14 of the W-2 for tracking and information for the employee.
FAQ
For more details, visit the NY Paid Family Leave website.