Learn how to use projects to calculate your profits and costs by project. These "job costing" features are available in QuickBooks Online Plus, Advanced, and Accountant.
You can use projects to quickly calculate your project income and costs. QuickBooks separates your hourly labor from other project costs so everything is easy to understand. This gives you a clear picture of your profits from every project.

If you're a payroll user, here's how you can use Projects.
Step 1: Turn on and create projects
If you haven't already, here's an easy step to turn on and create a new project.
Step 2: Add project income and expenses
Now that you've created your first project, start adding income and expenses.
Adding transactions to projects won't change how they're categorized or affect your accounts. You're simply tagging them so you can track specific project income and expenses.
Open your project.
Select the Add to project button to create a brand new transaction.
Select Invoice, Receive Payment, Expense, Estimate, Purchase Order, Bill or Time.
You'll automatically tag new items to projects when you select the Add to projects button.
If you use QuickBooks Time to track your employees' time, you can import time tracked directly into the weekly timesheets.
The Time option lets you record a single day of work by one of your workers. If you want to add weekly timesheets, there are a few extra steps we will cover in Step 5.
Working from an estimate?

Add estimates to projects before converting them to invoices for your customer.

You can also use progress invoicing to create multiple invoices from a single estimate. That way, instead of asking for full payment at the beginning, you can invoice for partial payments throughout the project. This is a good option if you're charging customers for a fixed fee.
Step 3: Add existing expenses
You can also tag expenses and timesheets (billable or nonbillable) you've created outside of the Projects menu.
Add existing expenses:
Go to Expenses.
Find and open the transaction.
Select the project from the Customer/Project ▼ drop-down menu. Do this for each expense item you want to tag. This isn't the same as the payee for the expense.
Select Save and Close.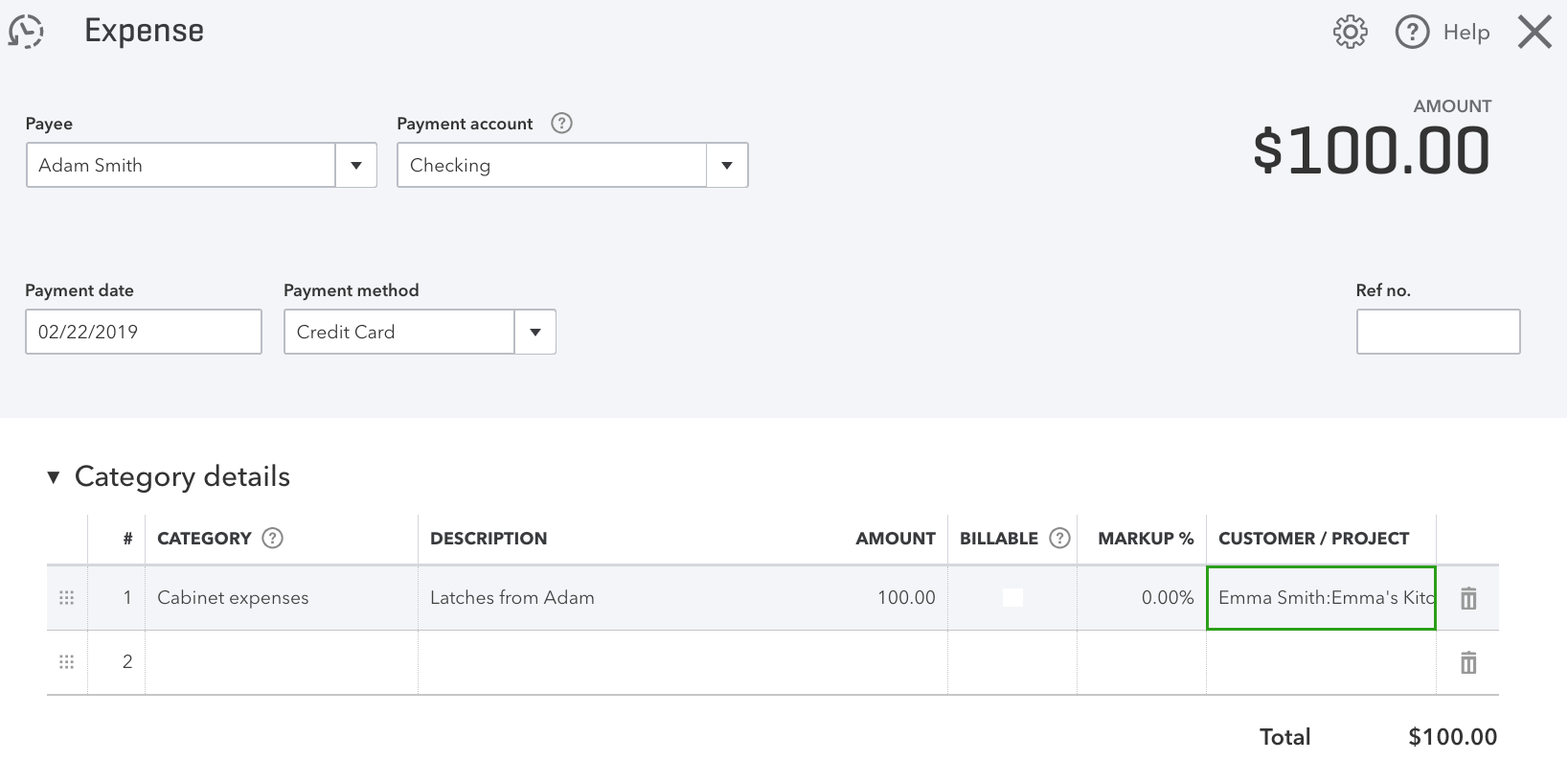 Add timesheets (billable or nonbillable):
Go to Sales.
Select the Type column to sort the list.
Find and open the timesheet.
Select the project from the Choose a customer or project ▼ drop-down menu. Do this for each employee's time you want to tag.
Select Save and Close.
Step 4: Add existing invoices
You can add any invoice to a project so long as it wasn't created from an estimate and doesn't have any attached time or billable expenses. To add the invoice to a project, replace the name of the customer in the invoice with the project name.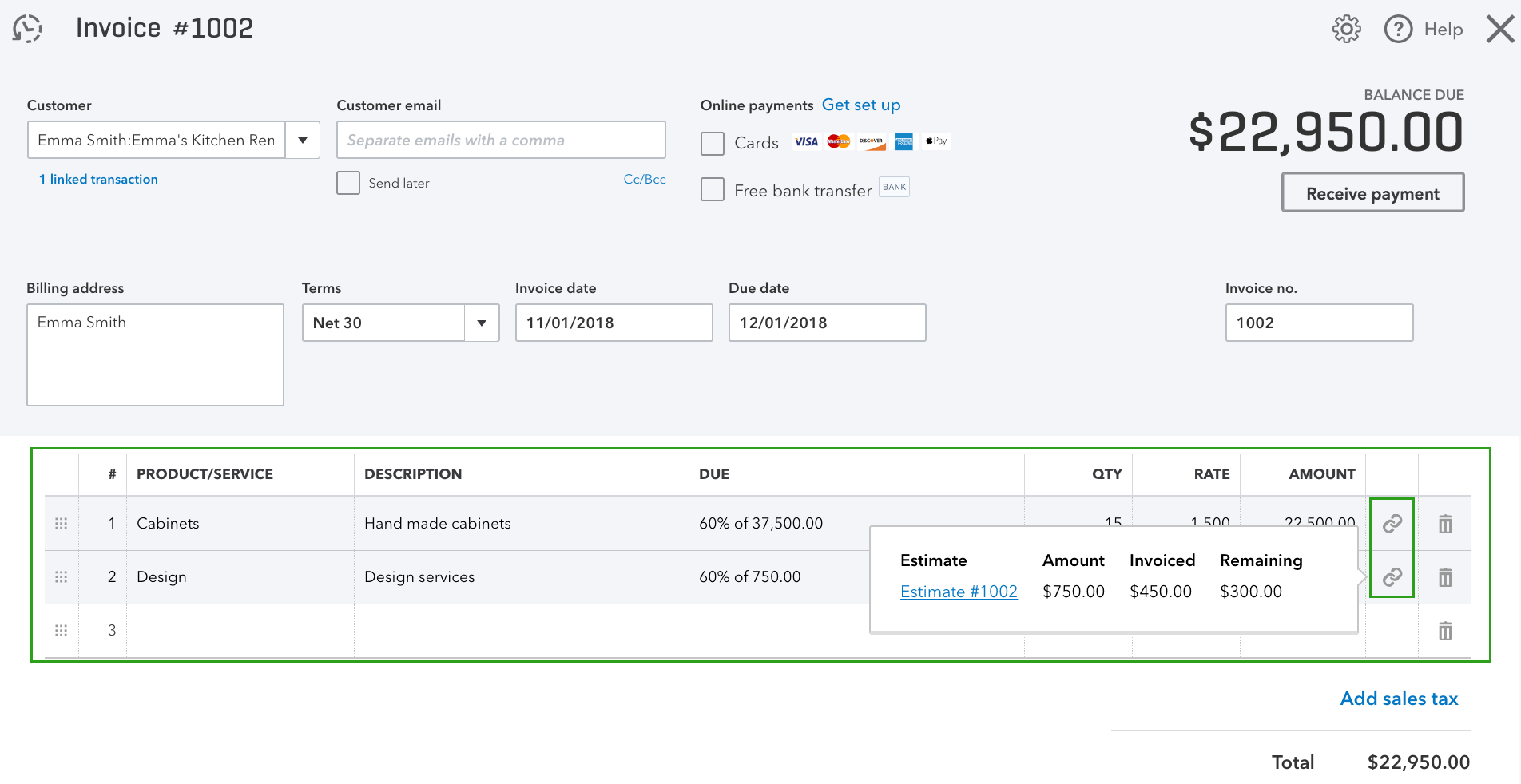 If the invoice is paid and you add it to the project, the payment for the invoice will be disconnected. To avoid charging the customer twice, follow these steps.
Go to Settings ⚙ and select Chart of Accounts.
Select View register on the account the payment was deposited.
Select the payment for the invoice, then Edit.
Select the invoice checkbox the payment is for, then Save and close.
Step 5: Track your hourly time costs
Tracking your project labor costs is a two-part process. First, you need to calculate the hourly cost rate for each worker. Then you'll be able to add project timesheets using your hourly cost rates.
| | |
| --- | --- |
| | Important: Historic time entries created prior to entering an Hourly Time Cost will not show in the Time Cost report or Time Activities under cost in QuickBooks Online. |
If you're using QuickBooks Online Payroll (Enhanced and Full-Service)
If you use QuickBooks Online Payroll, QuickBooks uses your most recent payroll to calculate your hourly time costs for you.
Select + New.
Select Weekly Timesheet.
Select your employee and the week you're entering time for from the drop-down menus.
Select the project from the Choose a customer or project ▼ drop-down menu. This will tag the timesheet to the project.
Fill out the timesheet. You can change a worker's pay rate from regular pay to other rates as needed on the timesheet.
You can check the Billable (/hr) box and edit the billable rate (the price you're charging your customers) if you plan to invoice your customer for specific project hours.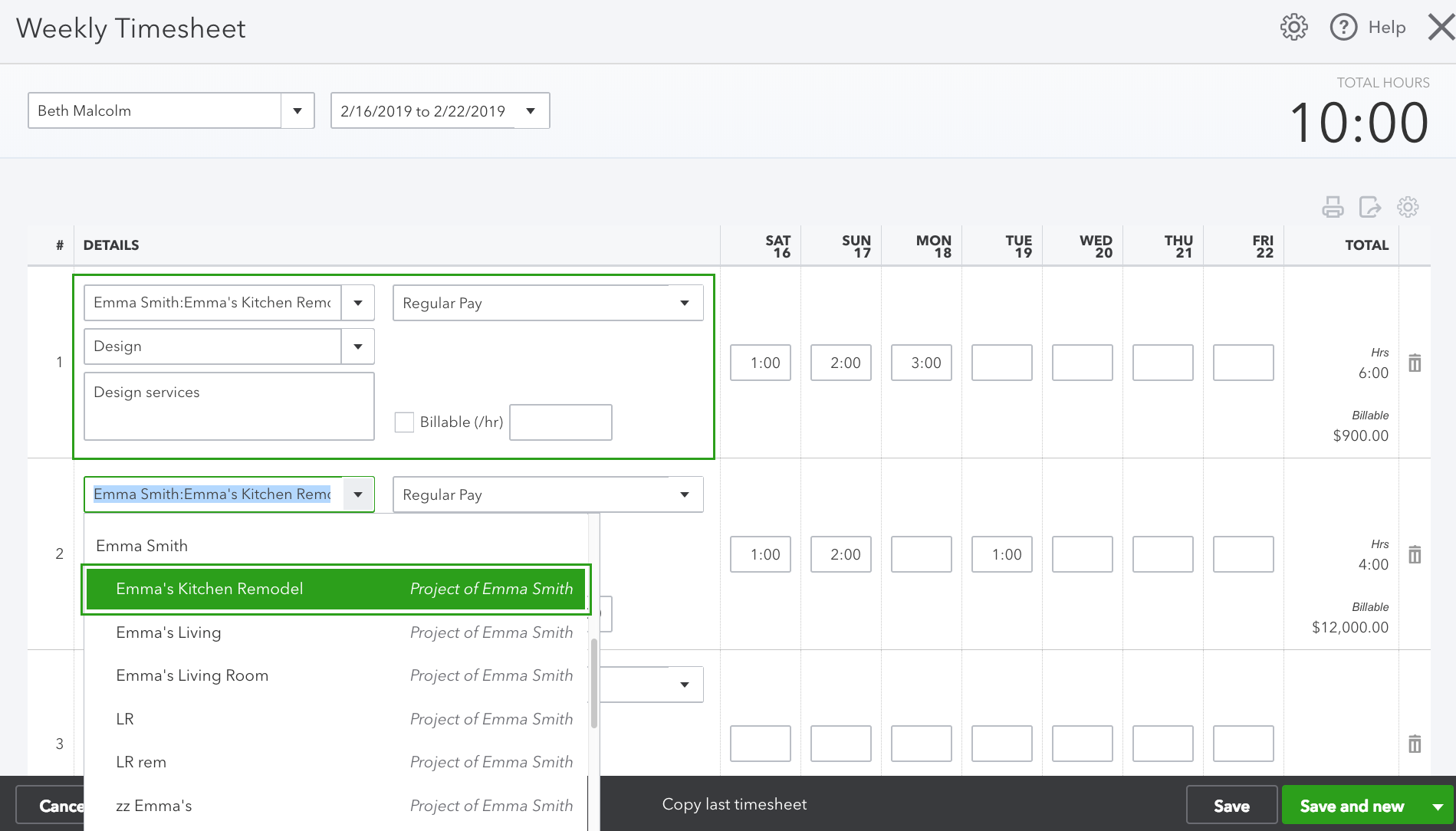 If you make a timesheet billable
Select the Projects menu and open the project.
Go to the Transactions tab.
Find the timesheet on the list.
From the Action column, select Create invoice.
Complete the invoice and send it to your customer.
Timesheets will not import directly to projects. Timesheets from QuickBooks Time will only import directly to the weekly timesheet.
Run payroll
Important: Make sure you fill out all of your employees' timesheets in QuickBooks and tag them to projects before running payroll.

If you need to edit project hours, edit them directly on the weekly timesheet first. Then run your payroll.
When you're ready, go to the the Payroll menu.
Select the Employee tab.
Follow the usual steps to run payroll.
See your profits
Review your profits after you run payroll when you have the most up-to-date cost info.
You'll see a snapshot of your income, costs, and profits in the header of every project page.
You can get more details in the Overview tab. This is where you can see your payroll costs (employee wages and employer taxes) separated from other project costs.
You can run a Project Profitability report from the Project reports tab to get an itemized view of your project accounts and transactions.
Step 6: Keep everything running smoothly
Now you know how to track project costs and profits. Here's how to make sure what you're seeing is always accurate:
Use the income and cost columns in the Overview tab as guides. Make sure the correct column total increases when you add invoices, expenses, and weekly timesheets. If you're using payroll, timesheets won't increase your costs in the Overview column. You can see these costs on the Time Activity tab or your Time cost by employee or vendor report.
The Time Activity tab breaks down your team's work by date. It also provides the total cost of each employee and service you offer.
The Transaction tab lists all transactions tagged to a project. You can complete tasks directly from this screen, such as converting an estimate to an invoice.
Review your Time cost by employee or vendor reports every month. Make sure you've correctly tagged all project-related work hours. If you're missing hours or counting too many, your profit totals will be inaccurate.