Learn what to do if you see error messages about upgrading Internet Explorer in QuickBooks Desktop.
If you're using an older version of Internet Explorer, you may get a message in QuickBooks Desktop about updating to the newest version.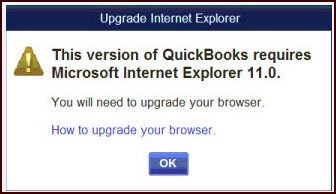 How to upgrade Internet Explorer
Close QuickBooks Desktop.
Follow the steps for your Windows operating system to upgrade to Internet Explorer 11.
Reopen QuickBooks Desktop.
Frequently Asked Questions
See system requirements and language support for Internet Explorer 11.
Internet Explorer 11 works with the following operating systems:
Windows 10 and Windows 8.1.
Windows 7 (users must manually download Internet Explorer 11).
Microsoft no longer updates Windows XP, Windows Vista, or Windows 8. It's important you update your operating system so you can use Internet Explorer 11 with QuickBooks Desktop.
No. Microsoft stopped updating Internet Explorer (IE) 10 in January 2016. So it's important you use the latest version of Internet Explorer so everything is up-to-date.
Yes. Internet Explorer is the default browser for QuickBooks Desktop. It runs online and offline processes like payroll, payments, and online banking.
Some key features, like the help window, rely on Internet Explorer to deliver the latest help content.
If already installed Internet Explorer 11 and see a message about upgrading to Internet Explorer 11.0, find out how to correct the error.