Learn about the new custom internal browser that works specifically with QuickBooks Desktop for Windows.
We have a built-in browser that replaces Internet Explorer 11 in QuickBooks Desktop.
Connect with our internal browser
Internet Explorer 11 is the current browser for QuickBooks Desktop, but as of June 15, 2022, Microsoft won't support it. Read more about Microsoft's Lifecycle Policy. 
On June 10, 2022, all supported versions of QuickBooks Desktop will begin to use our new custom browser.1  It's reliable and will include critical security updates.2
What do you have to do?
All you need to do is update to the latest release to make sure you receive future security updates.2
You can also migrate to QuickBooks Online where security and critical updates happen automatically.2
The way you use QuickBooks Desktop won't change. 
Important: While Internet Explorer may not be used for some online services, it's still required for QuickBooks to function properly. If Internet Explorer is turned off, you may see the following message.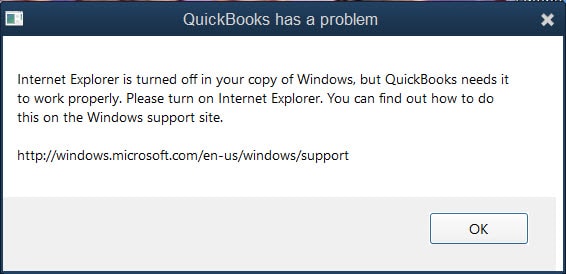 1. This custom browser will only be supported in QuickBooks Desktop Pro/Premier/Enterprise/Accountant 2020, 2021, and 2022 versions.
2. Updates will be provided if and when they become available.