If you're importing a .QBO file from an approved financial institution in QuickBooks for Mac and you get this message, you may need to perform the solutions below:
QuickBooks was not able to complete your request. Please contact your financial institution. (OL-222)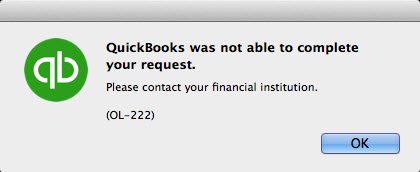 Error OL-222 indicates that QuickBooks didn't receive a valid response from the financial institution's server. A parsing error occurred in the server response. This is often caused by one or more characters in the .QBO file that aren't compliant with the Open Financial Exchange (OFX) standard for exchanging financial data with QuickBooks.
This may also happen if the downloaded .qbo file is formatted incorrectly and needs to be fixed by the financial institution.
Perform the solutions in the order shown.
Solution 1: Update to the latest release
Import the .qbo file again.
Solution 2: Correct invalid formatting
An example of invalid characters would be &. By simply editing the .qbo file in Text Edit and removing all instances of this, it can allow QuickBooks to properly import the file.
If there are formatting issues, contact the financial institution for assistance. The financial institution provides the .qbo file download, and they need to be made aware of this. QuickBooks follows a set of OFX guidelines set by the OFX Consortium. If a financial institution doesn't adhere to these guidelines, QuickBooks won't be able to import those .qbo file downloads.
Solution 3: Download a new FIDIR.txt file
Important: Make a backup of your company file before performing this solution. Note that QuickBooks needs to be closed while performing these steps:
Hold the Control key and select the version of QuickBooks for Mac you're using to download the correct file. Download QuickBooks for Mac and choose Download Linked File As, then save it to the Desktop.
Move the old FIDIR.txt to the Trash and empty it.

FIDR # 1

Press the Option key and from the Finder menu bar, select Go > Library.
Browse the Download folder (Application Support/com.intuit.QuickBooks20XX/Downloads) after opening the users Library folder.
Drag FIDIR.txt to the Trash.
Empty the Trash.

FIDR # 2

From the top menu bar, choose Go > Applications.
Press the Control key then select QuickBooks 20XX.
In the contextual menu, select Show Package Contents.
In the new window that opens, double-click the Contents folder.
Open the Resources folder.
Find the "FIDIR.txt" file and drag it to the Trash.
Empty the Trash.

Copy and Paste the new FIDIR.txt file that you saved on the Desktop into both the Resources and Downloads folder in Step 2.
Import the .qbo file.