Learn how to fix errors when you enter your product and license numbers, or your activation code in QuickBooks Desktop.
We'll walk you through how to fix these errors so you can get back to work.
Fix Error: You have entered incorrect license/product numbers
Make sure the license number and product code match
If you bought QuickBooks Desktop from our website: Check your purchase confirmation email for your license number and product code. If you can't find them, you can sign in to your Customer Account Management Portal to get them.
If you bought QuickBooks from a retail store: Look for the bright color sticker on the original CD envelope.
Fix error: The validation code is incorrect or This service is temporarily unavailable
If you get these errors while you activate your QuickBooks, follow these solutions:
Solution 1: Check your date and time settings
Make sure your date and time are correct on your system. Once you fix them, you can activate your QuickBooks. If you get the same error, go to Solution 2.
Solution 2: Run Quick Fix from the QuickBooks Tool Hub
QuickBooks might not activate because of a problem with its background processes. Download the QuickBooks Tools Hub and run a Quick Fix to close any open background processes. It'll run a quick repair on your program.
Step 1: Download the QuickBooks Tool Hub
The QuickBooks Tool Hub helps fix common errors. You'll need to close QuickBooks to use the tool hub. For the best experience, we recommend you use Tool Hub on Windows 10, 64-bit.
Close QuickBooks.
Download the most recent version (1.5.0.0) of the QuickBooks Tool Hub. Save the file somewhere you can easily find it (like your Downloads folder or your Windows desktop). Note: If you've installed Tool Hub before, you can find out which version you have. Select the Home tab. The version will be on the bottom.
Open the file you downloaded (QuickBooksToolHub.exe).
Follow the on-screen steps to install and agree to the terms and conditions.
When the install finishes, double-click the icon on your Windows desktop to open the tool hub.

Note: If you can't find the icon, do a search in Windows for QuickBooks Tool Hub and select the program.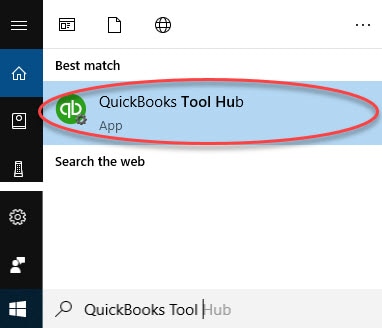 Step 2: Run Quick Fix from the Tool Hub
In the QuickBooks Tool Hub, select Program Problems.
Select Quick Fix my Program.
When the tool finishes, start QuickBooks Desktop, then open your data file and try to activate.
If you still get the error, move on to Solution 3.